Amazon Prime Video offers a vast library of movies, TV shows, and original content that many subscribers love to watch. However, there may be times when you want to save Amazon videos for offline viewing or keep them for posterity. While Amazon Prime Video does offer a download feature for some content, it's important to note that Amazon Prime Video downloads come with time restrictions. Most downloaded content is only available for 30 days, and once you start watching it, you have 48 hours to finish before it expires. This method is suitable for short-term offline viewing but not for long-term storage.
To ensure you can enjoy your favorite Amazon videos indefinitely, you'll need to explore alternative methods of saving them permanently. In this article, we'll provide a step-by-step guide on how to save Amazon videos forever.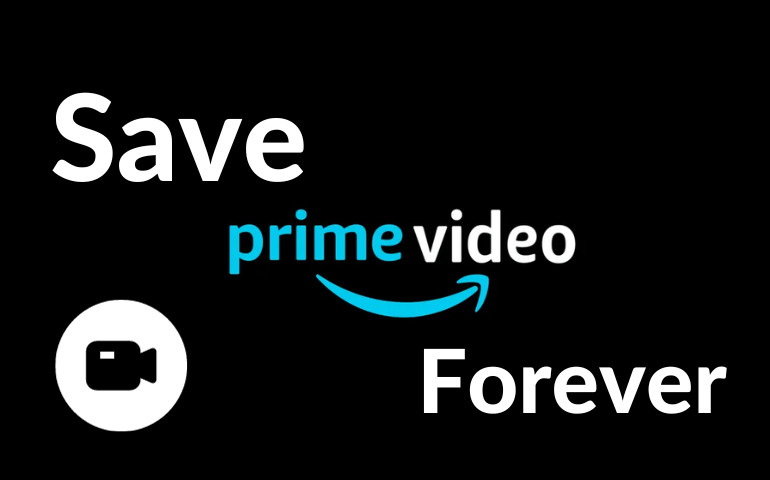 Part 1: Download Video via Amazon Prime Video App
Amazon Prime Video allows users to download selected titles for offline viewing. While these downloads typically have an expiration date, you can extend the viewing period by periodically reconnecting to the internet to validate your subscription. This method is convenient for those who don't mind periodic reauthorization.
Here's how to download Amazon Prime Video content:
Step 1: Open the Amazon Prime Video app on your device.
Step 2: Find the title you want to download.
Step 3: Tap the download button (usually a downward arrow icon) next to the title.
Step 4: The download will begin, and the video will be available for offline viewing.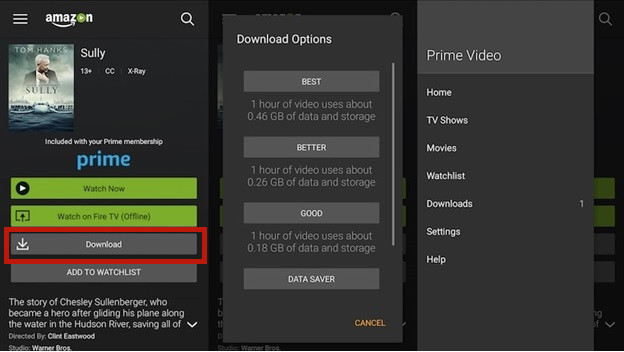 Part 2: Download Video via VideoGo All-In-One
VideoGo All-In-One is a comprehensive video downloader that supports a wide range of streaming platforms, including Amazon Prime Video, Netflix, YouTube, and more. It is designed to help users download videos from these platforms to MP4 or MKV format, making it accessible on different devices and ensuring that you can keep your favorite content forever on your device.
Key Features of VideoGo All-In-One:
Amazon Prime Video Support: VideoGo All-In-One is compatible with Amazon Prime Video, allowing you to download and save your favorite movies and TV shows from any regional Amazon Prime Video website including Amazon US, UK, Japan, Germany and Prime Video.
High-Quality Downloads: VideoGo offers the option to download videos in high quality, including 1080p and even 4K, ensuring that your saved content looks stunning on your screen.
Batch Download: You can download multiple videos simultaneously, saving you time and effort when archiving your favorite content.
Subtitle Download: This app offers three different subtitle modes: Internal Subtitle, External Subtitle and Hardcode Subtitle. If you want to save subtitles along with your videos, VideoGo can download them in various languages.
User-Friendly Interface: VideoGo All-In-One features an intuitive and easy-to-use interface, making it accessible to users of all skill levels.
There is a tool called
Kigosft Music One
that enables you to download and save Amazon Music forever. Besides, you can use it to download music from Spotify, Apple Music and more.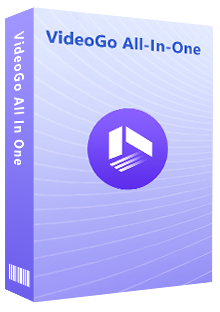 VideoGo All-In-One
A comprehensive tool for downloading unlimited videos from multiple streaming sites with ease.
Download movies & shows from Amazon Prime Video.
Support downloading Amazon Prime Video in HD quality (up to 1080p).
Download Amazon Prime Video in MP4 or MKV format.
Preserve original audio tracks and subtitles in multiple languages.
Play the downloaded videos anytime, anywhere without limits.
Download
Download
How to Download Amazon Videos with VideoGo All-In-One?
Step 1Download and Install VideoGo All-In-One
Download the program and follow the installation instructions to set up VideoGo on your computer. A window will then pop up asking you to choose a download site. You can choose Prime Video, Amazon US/Japan/Germany/UK.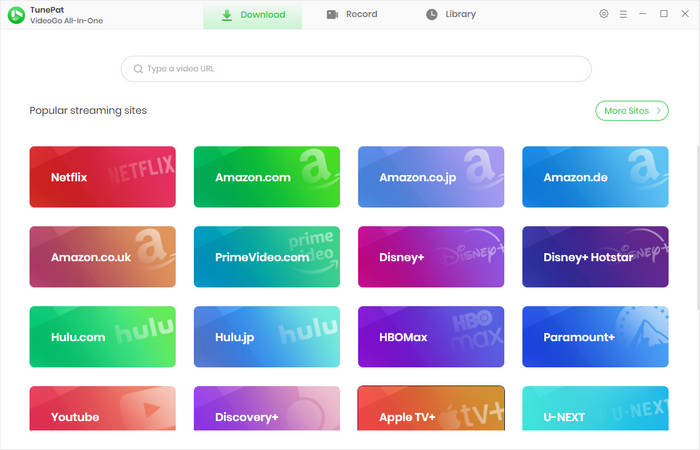 Step 2Customize the Settings
You can customize the default download settings by clicking the upper-right gear icon. VideoGo will display the available options for video quality, video format, audio and subtitle language, output folder, etc.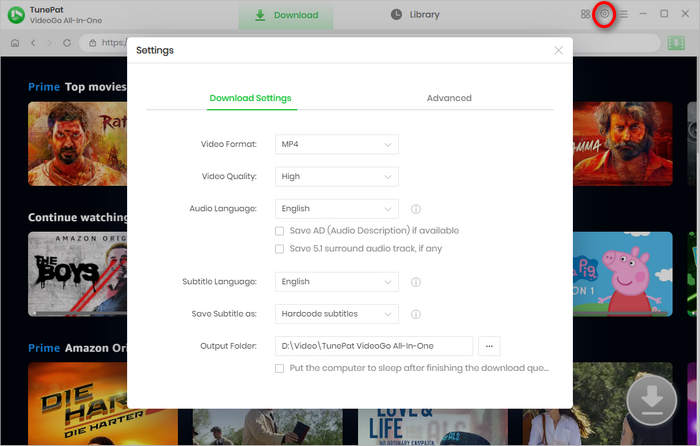 Step 3Search for Amazon Video
Go to Amazon Prime Video and find the video you want to save. Copy the video's URL from your browser's address bar and paste it into VideoGo. The program will list the search result fast.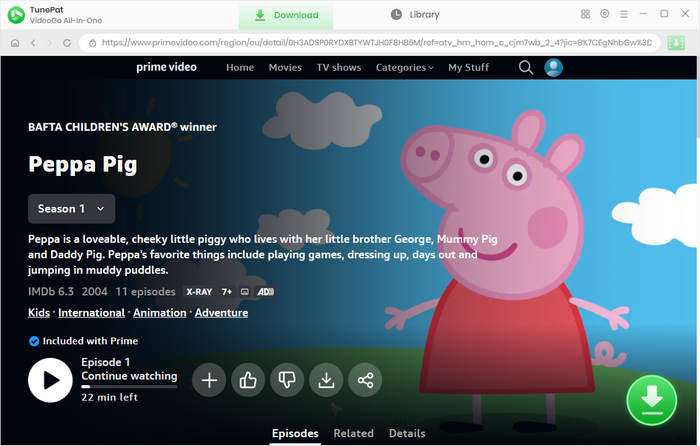 Step 4Set the Advanced Download Settings
Once you find the video you wish to download and click the

icon, a list of episodes will be displayed. You can manually select a certain episode or download them in batches with one click. There is an "Advanced Download" button that offers more precise options for the video quality, audio track, and subtitle. This icon

can be found next to the "Download" icon if you're attempting to download a movie.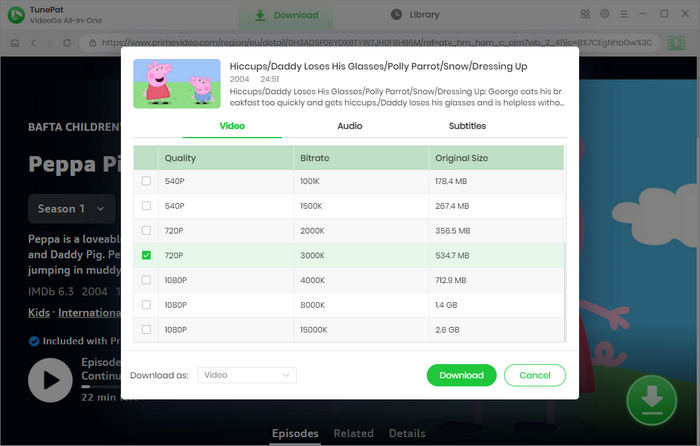 Step 5Download the Video
Click the "Download" button to begin the downloading process. VideoGo will start downloading the Amazon Video to your computer. Once the download is complete, your Amazon Video is saved on your computer forever.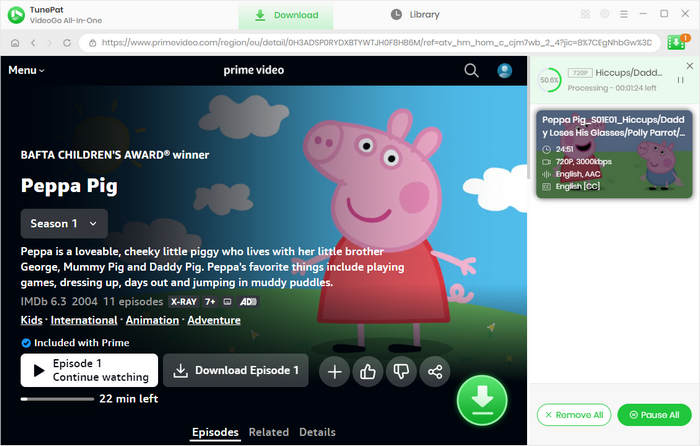 Final Word
VideoGo All-In-One is a powerful and versatile tool that empowers you to save Amazon Video content forever, ensuring that your favorite movies and TV shows are accessible even when you're offline or if they are removed from the streaming platform. With its user-friendly interface and a wide range of features, VideoGo makes the process of downloading and converting videos a breeze. Now you can build your own library of Amazon Video content and watch it at your convenience.
Note: When downloading videos from streaming sites including Netflix, Prime Video, Disney+, Hulu, HBO Max, ParamountPlus, and Discovery+, the free trial version of VideoGo can only download the first five minutes of each video. To unlock the limitation, you are suggested to purchase the full version.