Are you looking for a way to watch Disney Plus videos offline without the app? You are so lucky to find this article. Here we bring a program to help you achieve the purpose of watching Disney Plus videos offline without the app. Please read on to find out what it is.
Disney Plus entitles its users to access to its extensive catalog of movies and TV shows available on the service once they subscribe to its plan. You're bound to find something that tickles your fancy in its huge library. Disney Plus features the download function so that you can enjoy Disney+ videos and movies offline on the go without interruption when you're traveling or are somewhere with dodgy internet.
Although Disney Plus does not have a cap on how many titles you can download, it has some limitations when it comes to watching offline. Offline viewing is only available on mobile devices and the downloaded videos can only be watched through the app. Don't worry. The program to be introduced next can help you solve your problem.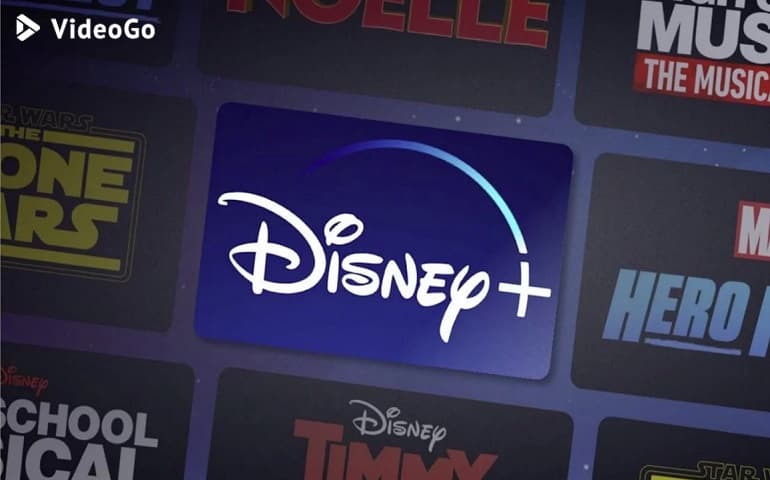 Download Disney Plus Videos with VideoGo All-In-One
VideoGo All-In-One has been widely praised for its great functions since its launch. It can support downloading videos from more websites than you can imagine. There are currently 15 supported sites, like Netflix, Amazon Prime, Disney+, YouTube, and Facebook. More sites may be added in the future. It allows you to download videos and shows from the streaming services and social media platforms. Even if your streaming media subscription does not allow you to download videos or the number of videos downloaded is limited, VideoGo All-In-One enables you to download unlimited shows and watch them offline.
One of its most powerful features is the fast download speed. Other programs may generally take an hour to download a movie. When you use VideoGo All-In-One, you will find that it only takes 20 minutes to download a movie, which greatly shorten the download time. It allows you to download HD videos and movies from Disney Plus and obtain audio tracks and subtitles in multiple languages. Why say it can help you watch videos offline without the Disney Plus app? This is because it can download the videos to your computer in the universal MP4 or MKV format, unlike the Disney Plus app, which downloads videos in an encrypted format and can only be played within the Disney Plus app.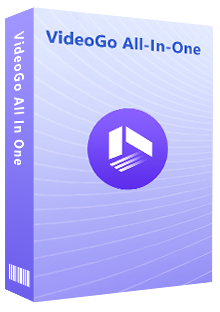 VideoGo All-In-One
A comprehensive tool for downloading unlimited videos from multiple streaming sites with ease.
Directly download movies and TV shows from Disney Plus website.
Support downloading HD videos (up to 720p) from Disney Plus.
Save Disney Plus videos as MP4 or MKV files.
Preserve original audio tracks and subtitles in multiple languages.
Play the downloaded videos anytime, anywhere without limits.
Download
Download
How to Watch Disney Plus Videos Offline Without the App?
Before starting the following introduction, please make sure you have downloaded the latest version of VideoGo All-In-One from the official website on your PC. Please note that VideoGo All-In-One doesn't support the Disney+ Hotstar account and a Kid Profile.
Step 1

Select the Website and Log in

Launch VideoGo All-In-One on your computer. If you open it for the first time, it will pop up a window for you to choose the target site. Choose "Disney Plus" and click "OK", and the program will jump to the search interface of Disney Plus. Type some words into the search bar and then you'll be prompted to log in to Disney Plus in order to access its content library.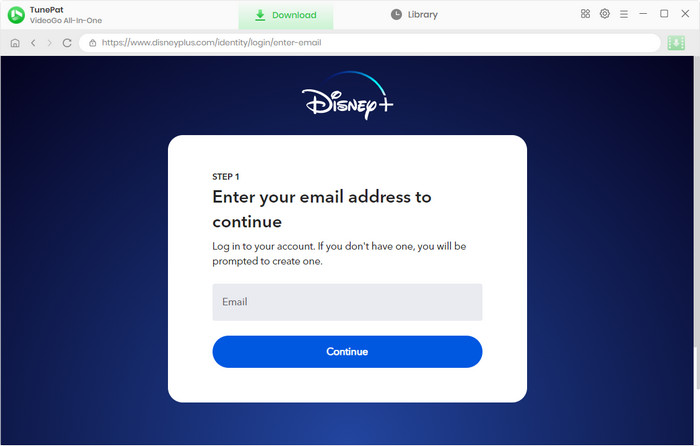 Generally speaking, after you set the target site, the last site used last time will be the default when you open the program next time. So, if you want to change the target site, click "Settings" > "Account Settings" > "Choose".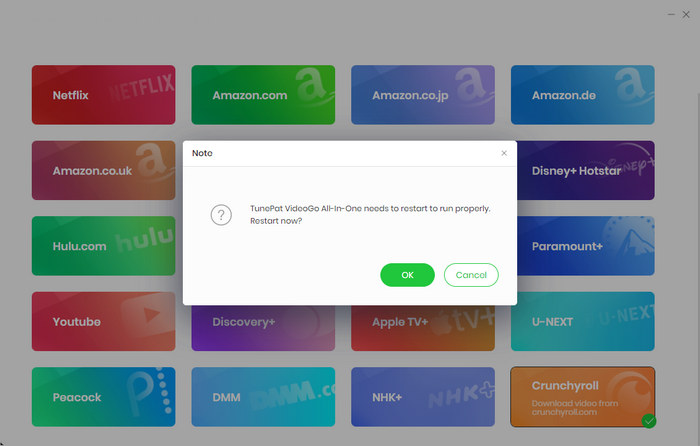 Step 2

Select the Output Settings

You can choose the video's settings in advance by clicking the "Settings" icon in the upper right corner. The output folder, video format, video quality, audio languages, and subtitles languages are all customizable. Additionally, VideoGo provides H.265 video codecs so that, in the event that your memory is running low, you can download HD videos in a smaller file size.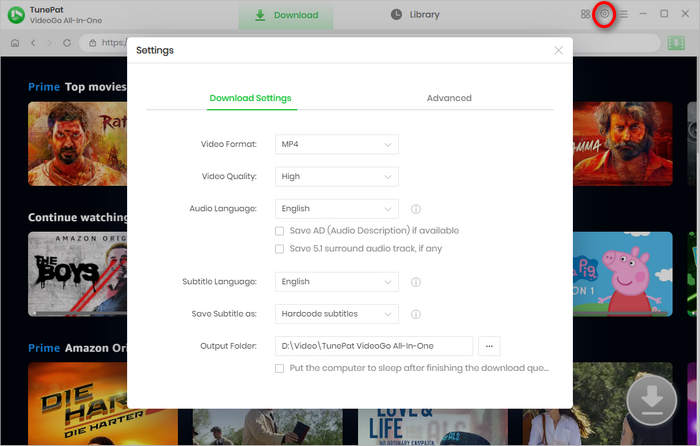 Step 3

Two Ways to Search for Videos

Instead of downloading the Disney Plus app, you can search for the content using two simple methods with VideoGo All-In-One. One is to type the video's title or keyword, the other is to paste the precise URL of the video from the Disney Plus website.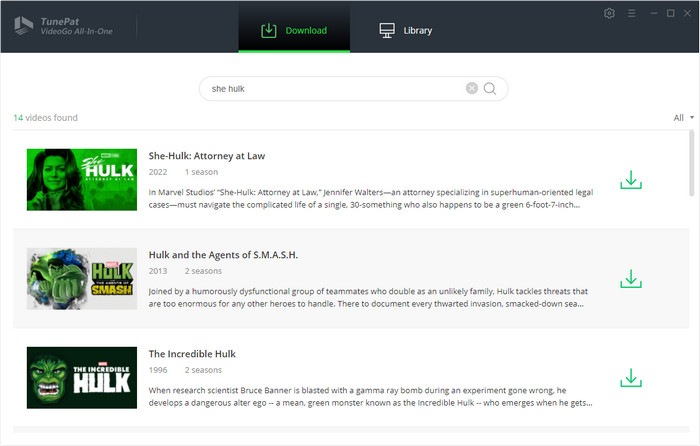 Step 4

Select the Title, Video Quality, Audio and Subtitles

If you want to download a full-season TV series, batch download is available for you to download all episodes with one click. There is an "Advanced Download" function in VideoGo where you can choose particular options, like more specific video quality.

After clicking the "Download"

icon, the "Advanced Download" button will appear in the pop-up window's lower left corner if you want to download a TV show. The icon

can be found next to the "Download" icon when downloading a movie.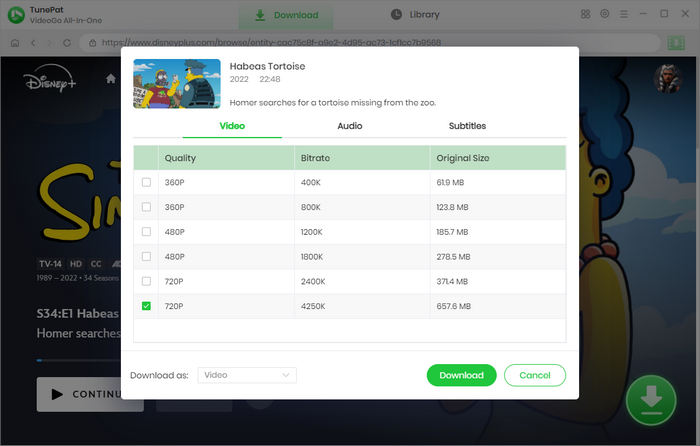 Step 5

Start to Download the Videos

Start downloading the videos by clicking the "Download" button. Once finished downloading, tap "Library" to see the downloads. Find the folder containing the downloaded videos. Now you can watch videos offline on your computer or any device without the Disney Plus app.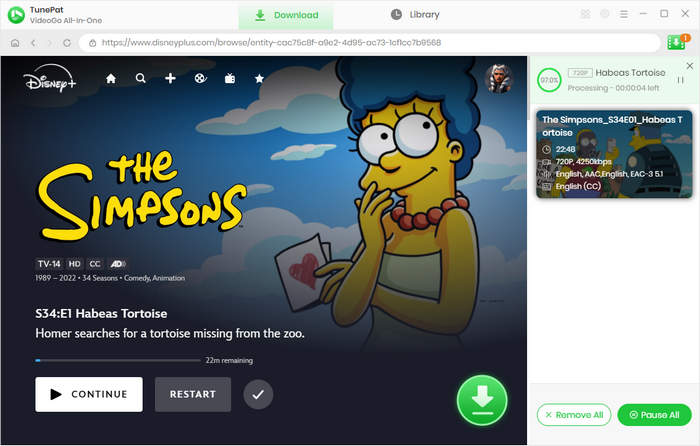 Final Word
There is no doubt that VideoGo All-In-One is the best choice for Disney Plus users. You don't need to be concerned that the downloads can be watched only through an app. With VideoGo, you are allowed to watch Disney Plus videos and movies offline anytime and anywhere without the app.
Note: When downloading videos from streaming sites including Netflix, Prime Video, Disney+, Hulu, HBO Max, Paramount+, and Discovery+, the free trial version of VideoGo can only download the first five minutes of each video. To unlock the limitation, you are suggested to purchase the full version.