Get ready to embrace the summer with the highly anticipated "Barbie (2023)" movie, hitting the exclusive screens in theaters today! After a series of animated direct-to-video films, the beloved plastic doll from Mattel is finally making her live-action debut, stepping out of her dream house and onto the big screen. Barbiecore is back in fashion, and fans are thrilled to see their favorite icon come to life. Academy Award winners Margot Robbie and Ryan Gosling will be slipping into Barbie and Ken's plastic shoes as they embark on a thrilling adventure that takes them from Barbie's imaginative world to the real one. Prepare for a captivating journey full of excitement and wonder!
What is the Barbie (2023) movie about?
Barbie, a 2023 American fantasy comedy film helmed by the talented director Greta Gerwig, with a script co-written alongside Noah Baumbach, brings the beloved Mattel fashion doll to life on the big screen. Departing from the previous computer-animated direct-to-video and streaming-TV movies, this movie marks the first live-action adaptation of Barbie.
Taking center stage, Margot Robbie embodies the iconic Barbie, while Ryan Gosling brings the charming Ken to life. The story revolves around their characters as they face an extraordinary turn of events in the seemingly perfect world of Barbieland. Amidst these unforeseen challenges, Barbie begins to question the very essence of her existence. Driven by this newfound curiosity, Barbie and Ken venture beyond the boundaries of their Barbie world into the real world, embarking on a journey of self-discovery. As Barbie explores the complexities of reality, her existential crisis deepens.
When will Barbie (2023) be available on HBO Max?
At present, Warner Bros. has not given a clear release time for Barbie (2023) in HBO Max, but according to Warner Bros.'s previous movies, after the movie is released in theaters, it will generally land on the streaming platform within 60-90 days. For example, this year's "Thunder Shazam!" ", "Wrath of the Titans" and "Evil Dead Rises" were released on streaming about two months after their theatrical premieres. "Shazam! ", "Wrath of the Titans" opened on HBO Max 67 days after its theatrical release, and "Evil Dead Rises" began streaming 63 days later.
But it's worth noting that if Barbie (2023) hits the box office, Warner Bros. may delay its streaming release. Because they want a potential blockbuster to make enough in theaters to make as much money as possible over the summer. So when it will be available on streaming media depends on the box office performance of Barbie (2023) in cinemas. The earliest possible streaming release could be in September. However, if viewers continue to show strong interest in the film at theaters for several months, Warner Bros. might decide to delay the streaming release until October or November 2023.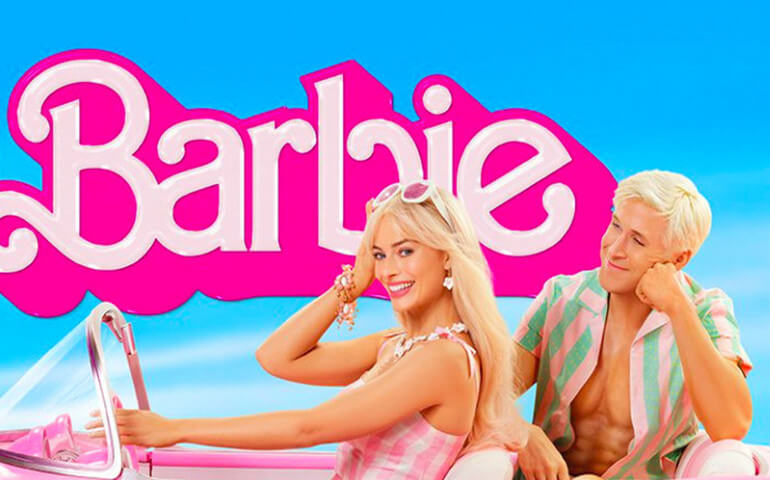 How to download Barbie (2023) for offline viewing?
While we cannot provide a specific release date for Barbie (2023) on HBO Max at this time, we have a solution that covers your movie downloading-needs. To download Barbie or any other movies from HBO Max, we recommend using VideoGo All-In-One. This versatile tool allows you to download videos from the HBO Max web player efficiently. Unlike downloading videos directly from HBOMax.com, which often comes with various restrictions, VideoGo can bypass these limitations, making it easy for you to download all your favorite movies and series from HBO Max with just one click.
VideoGo All-In-One is a user-friendly application designed to serve as an all-in-one video downloader for HBO Max. It features a simplified search engine, enabling you to find HBO Max content either by name or URL. Moreover, the tool provides various output setting options, allowing you to export HBO Max videos in MP4 or MKV format, while also giving you the flexibility to save audio tracks and subtitles in multiple languages. An added advantage of using VideoGo All-In-One is that you can continue to enjoy the downloaded videos even after canceling your HBO Max subscription. So, you can watch your favorite content whenever and wherever you please. Get started with VideoGo All-In-One and unlock a world of HBO Max entertainment at your fingertips!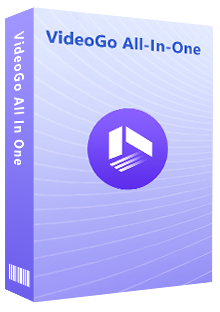 VideoGo All-In-One
A comprehensive tool for downloading unlimited videos from multiple streaming sites with ease.
Download movies & shows from HBO Max/Max.
Download HBO Max/Max videos in HD quality (up to 720p).
Save HBO Max/Max video as MP4 or MKV files.
Preserve original audio tracks and subtitles in multiple languages.
Play the downloaded videos anytime, anywhere without limits.
Download
Download
Steps to Download Barbie or other HBO Max content with VideoGo All-In-One
Step 1

Select the Streaming Site

Download and install the program on your computer and start it. Select HBO Max from the list of streaming sites. And then click "OK" to restart the program to connect to the HBO Max website.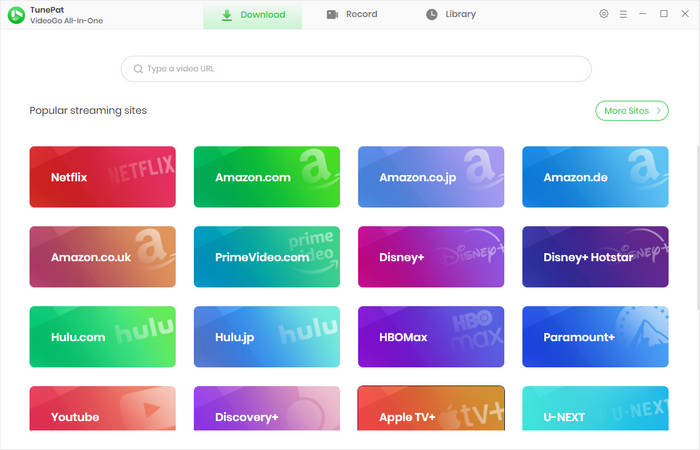 Step 2

Choose the Download Settings

Sign in with your HBO Max account. Then click the upper-right gear icon to open the Settings window. Here you can choose the output folder, video format, video quality, subtitle mode, etc.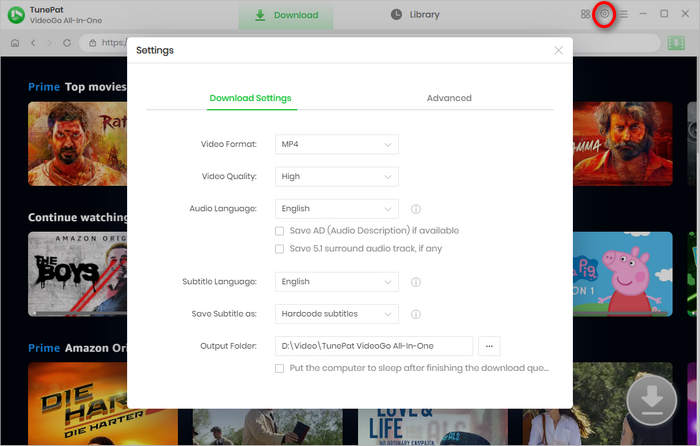 Step 3

Search for HBO Max Content

You can copy a video's link from the HBO Max website and paste it into VideoGo to find your wanted video. Or you can do a fuzzy search using the video name or keyword. And the program will find some related videos for your reference.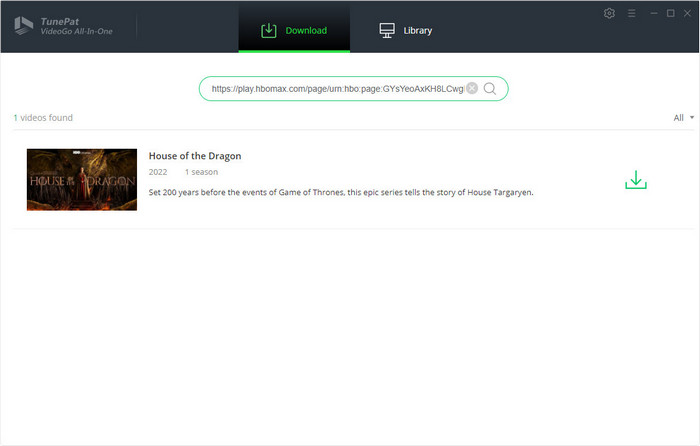 Step 4

Start to Download

The last step is to click the "Download" button. All your selected videos will be added to the download column and shown on the right side of the program.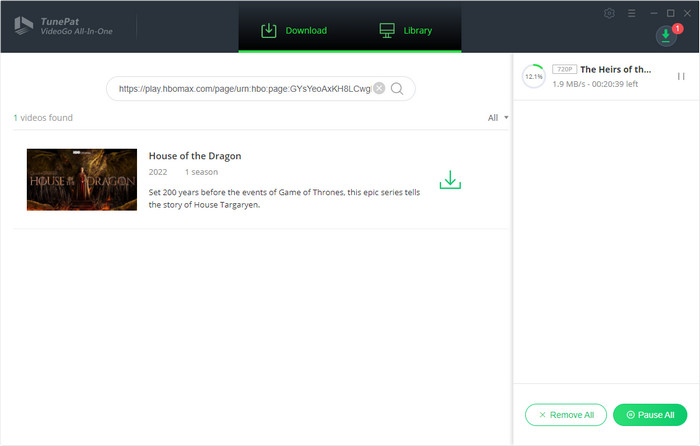 Final Word
While Barbie is currently unavailable for download from HBO Max, VideoGo offers a convenient solution to download numerous popular and classic movies from HBO Max's library. Movies like Harry Potter, Batman, Joker, Avatar, and more are readily accessible. The best part is that all the videos downloaded via VideoGo can be permanently saved on your device, regardless of whether you maintain an HBO Max subscription or not. Moreover, you have the flexibility to transfer these downloaded videos to any of your preferred devices, allowing you to enjoy offline viewing anytime and anywhere you desire.
Note: When downloading videos from streaming sites including Netflix, Prime Video, Disney+, Hulu, HBO Max, Paramount+, and Discovery+, the free trial version of VideoGo can only download the first five minutes of each video. To unlock the limitation, you are suggested to purchase the full version.