Are you tired of being stuck with limited data or poor Wi-Fi access when trying to watch your favorite Hulu shows on your Android phone? Look no further, Hulu offers a download feature that allows you to watch Hulu videos offline. If you have a subscription to Hulu (No Ads) or Hulu (No Ads) + Live TV, you can take advantage of the download function to save movies or TV shows on your mobile device and watch them when you are offline. Currently, it is available to download tons of movies and shows from Hulu streaming service on Android phones running Android 5.0 and above.
Here are two ways to download movies and shows from Hulu on your Android phone. Generally, you should download videos on your Android phone through the Hulu app. But if the app is not supported on your phone, you could try another way to get Hulu downloads, for example, using a third-party tool.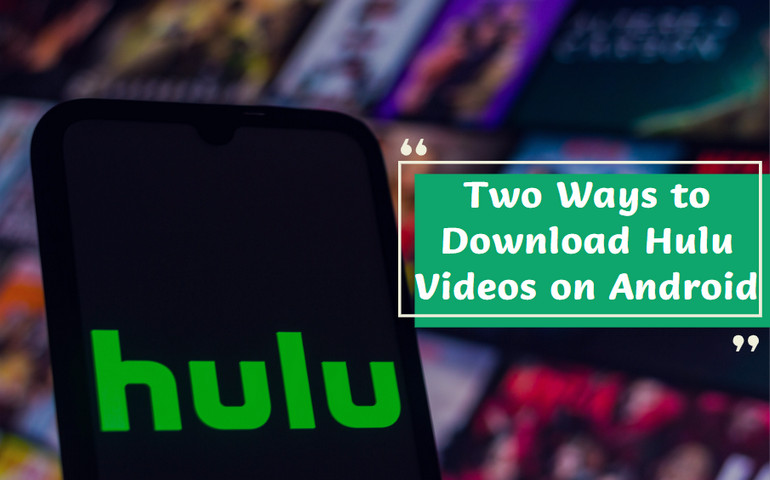 Method 1: Download Hulu Videos on Android Phone Using the Hulu app
Step 1 Make sure you have the latest Hulu app installed on your Android phone. Tap the Hulu app and sign in with your Hulu account.
Step 2 Tap the "Search" icon and tap "Downloadable" from the menu.
Step 3 Browse and find the movie or series you would like to download.
Step 4 For movies, tap the "Download" button from the description page of the video. For TV shows, tap the "Episodes" tab and choose the episodes you want to download and then click the "Download" icon.
You can check downloads in progress by clicking "Download" from the global navigation bar. And once downloaded, you can directly watch them without the network.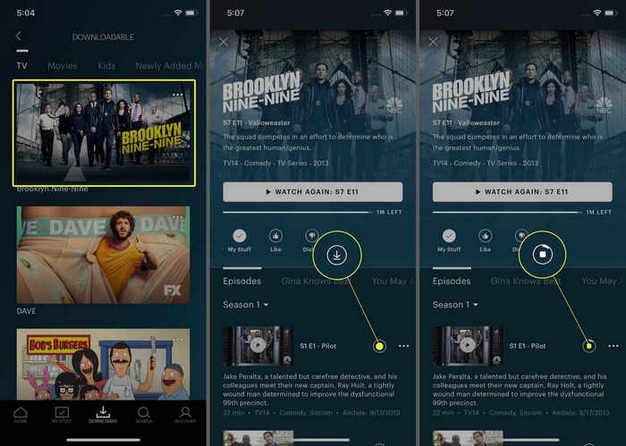 Method 2: Download Hulu Videos with VideoGo All-In-One
It's simple and uncomplicated to download movies and TV programs utilizing the Hulu app on your Android phone. Nonetheless, there are some limitations to keep in mind. Any downloaded video must be viewed within 30 days, and once you start playing a video, you have 48 hours to finish watching it. Plus, if you choose to cancel your subscription, all downloaded videos will no longer be accessible.
To enjoy Hulu content without limits, the second method is to download Hulu videos using a third-party tool. VideoGo All-In-One can help you download any video you want from Hulu. You can save the downloaded videos on various devices because this program downloads videos in MP4 or MKV format. With VideoGo All-In-One, you are able to download HD videos (up to 720p) with original audio and subtitles preserved. In addition, taking the storage capability of different devices, this program offers the option of selecting video codec as H.264 and H.265.
This program is available for both Hulu No Ads and With Ads subscribers to download thousands of movies and shows on their computers and then transfer the downloaded videos to their mobile phones for playback.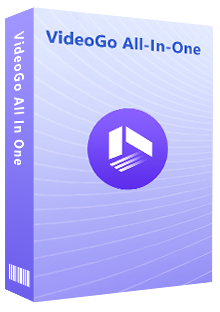 VideoGo All-In-One
A comprehensive tool for downloading unlimited videos from multiple streaming sites with ease.
Supports downloading movies & shows from Hulu and Hulu JP.
Download Hulu videos in HD quality (up to 720p).
Save Hulu videos as MP4 or MKV files.
Preserve original audio tracks and subtitles in multiple languages.
Play the downloaded videos anytime, anywhere without limits.
Download
Download
Steps to Download Hulu Videos with VideoGo All-In-One
Please download the latest version of VideoGo All-In-One on your Windows or Mac computer. Besides, please make sure the video you want to download can be viewed on Hulu through the web browser.
Step 1 Select Streaming Sites and Log in to Hulu
After launching the program, you need to choose a streaming site to download videos. Click the Hulu logo in the streaming sites list and then click the "OK" button to restart the program. If you want to change another streaming site, click the

icon, and then click "Account Settings" > "Website" > "Choose".
After that, type any word in the search bar and then click the "Enter" button on the keyboard to trigger the sign-in window. Please log in with your Hulu account.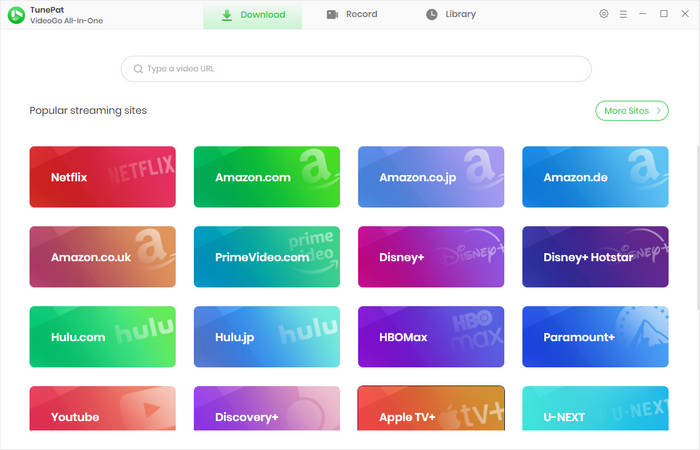 Step 2 Search Hulu Video by Name or URL
VideoGo allows you to search videos from the Hulu website using the video name or link. If you want to quickly find the desired video, it is recommended to search for it by entering the video link.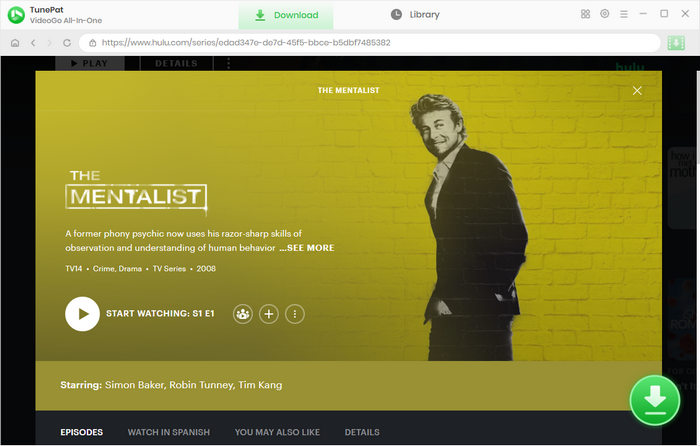 Step 3 Choose General Download Settings
Click the "Gear" icon and choose the output settings in the "Settings" window. From here, you can choose the video quality, video format, the language of audio and subtitles, subtitles type, and the output path.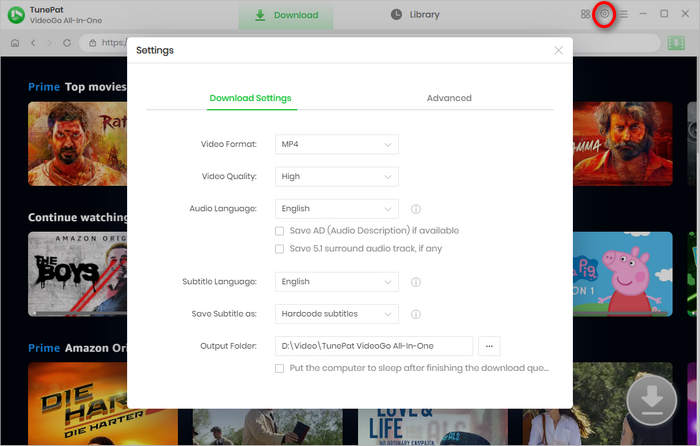 Step 4 Choose Advanced Download Settings
The "Advanced Download" option allows you to select the video quality, audio tracks, and subtitles according to more detailed parameters. For movies, directly click the

icon next to the "Download" icon to customize the settings. For TV shows, click the "Download" icon and select the episodes you want to download, and then click the "Advanced Download" button.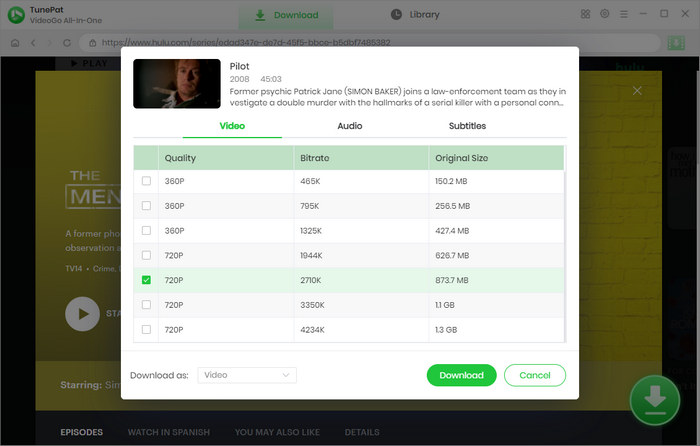 Step 5 Start Downloading Videos on Your Computer
Click the "Download" button and all your selected videos will be added to the download list and be downloaded at a faster speed. Once the download is complete, navigate to the "Library" tab to access the download records.
If you want to copy your downloads to your Android phone, please connect your phone to your computer using a USB cable, and then transfer the local files to your phone.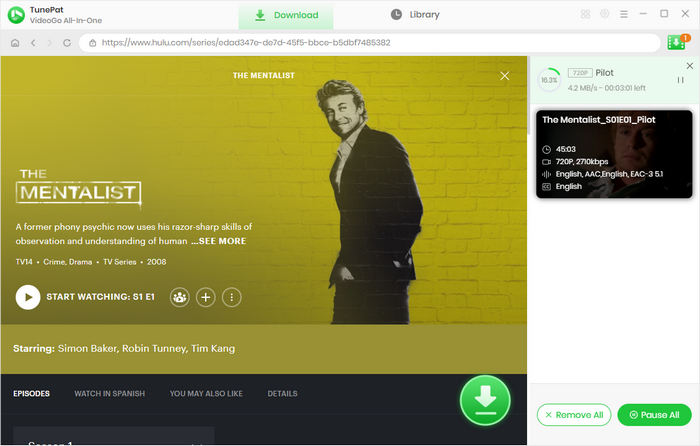 Conclusion
While the convenience of downloading videos on Android using the Hulu app, you have to watch your downloads within a limited time. VideoGo All-In-One offers a solution to this problem by downloading videos in MP4 format, enabling you to move the downloaded videos to your phone or other devices to watch offline at any time. Plus, whether you subscribe to a Hulu (No Ads) plan or a Hulu (With Ads) plan, this powerful tool can help you easily download videos without ads and store them forever on your device.
Note: When downloading videos from streaming sites including Netflix, Prime Video, Disney+, Hulu, HBO Max, Paramount+, and Discovery+, the free trial version of VideoGo can only download the first five minutes of each video. To unlock the limitation, you are suggested to purchase the full version.