Paramount Plus is a streaming platform that gives viewers access to over 30,000 hours of entertainment content with exclusive series and films from CBS All Access, Paramount Network, and Comedy Central. Paramount Plus subscribers can not only enjoy and discover a range of movies and TV shows online but also download their favorite content for offline viewing. However, when it comes to downloading videos from Paramount Plus, the service provides download options for its Premium plans only. The download option is not available for subscribers on the Essential plans, then how to download videos from Paramount+?
While the download feature of Paramount Plus is only available to subscribers with a premium account, users with an essential plan can still enjoy Paramount Plus content on the go by using a video downloader to download videos. This article will introduce a comprehensive video download tool named VideoGo All-In-One to help you download videos from Paramount Plus even if you only have an Essential account. It supports downloading videos from Paramount Plus in high quality without the hassles, letting you enjoy videos without an internet connection.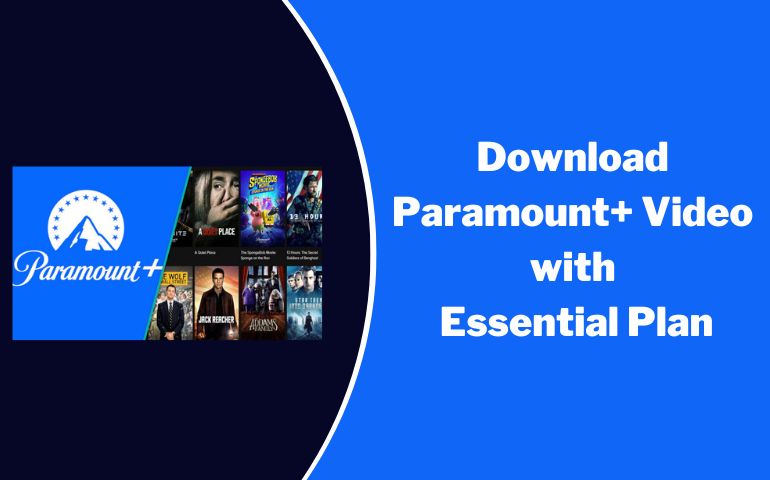 Tool Requirement: VideoGo All-In-One
VideoGo All-In-One is an excellent tool that is capable of downloading movies and TV shows from Paramount Plus to a computer without using the Paramount Plus app. It is available for both Paramount Plus Premium and Essential subscribers to download any video from the service and watch the downloads on any device. All videos are downloaded in a compatible MP4 or MKV format. What's more, VideoGo provides the option to save audio tracks and subtitles in different languages, as well as allowing you to download videos in multiple video qualities (up to 1080p). Last but not least, VideoGo All-In-One also supports downloading videos from other video streaming services like Netflix, Amazon Video, and more.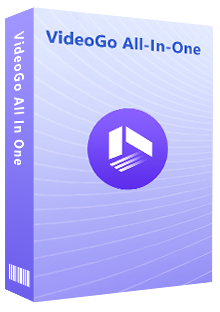 VideoGo All-In-One
A comprehensive tool for downloading unlimited videos from multiple streaming sites with ease.
Download movies & shows from Paramount Plus.
Download 1080p videos from Paramount Plus.
Save Paramount Plus videos as MP4 or MKV files.
Preserve original audio tracks and subtitles in multiple languages.
Play the downloaded videos anytime, anywhere without limits.
Download
Download
How to Download Paramount Plus Video with an Essential Account?
Step 1 Select Download Website
The below window will be prompted when you open the program for the first time. Please choose Paramount Plus as the website where you want to download videos, and then click the "OK" button to let the program switch to the correct website.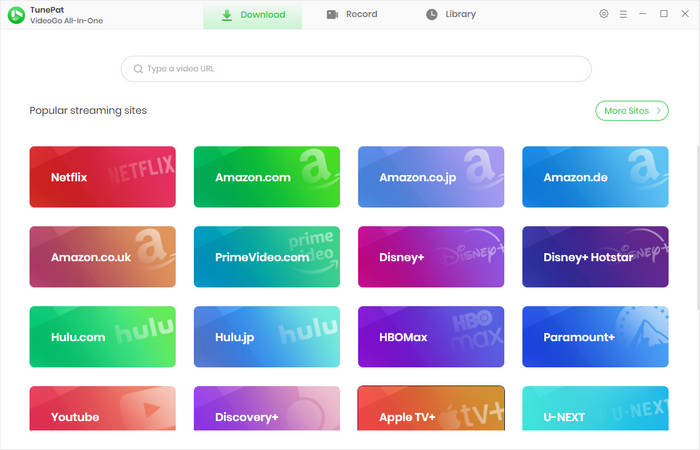 Step 2 Log in to Paramount Plus with Your Essential Account
Input any word into the search bar and press the "Enter" button, and the login window of Paramount Plus will show up. Please enter your email and password to let VideoGo have access to the content from Paramount Plus.
Once logged in, the login window will be automatically closed and the program will start searching for videos based on the information you entered. Please remove the information from the search bar.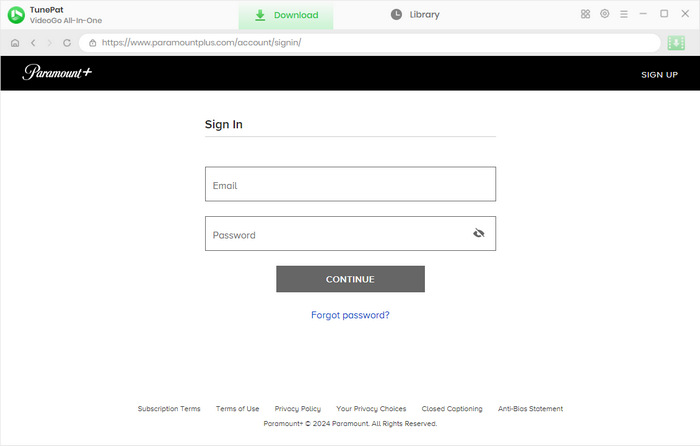 Step 3 Search for Paramount Plus Video
VideoGo All-In-One allows you to search for videos in two ways. You can enter the video name or keywords to find some related videos, or directly copy and paste a video's link into the search bar to find the specified video.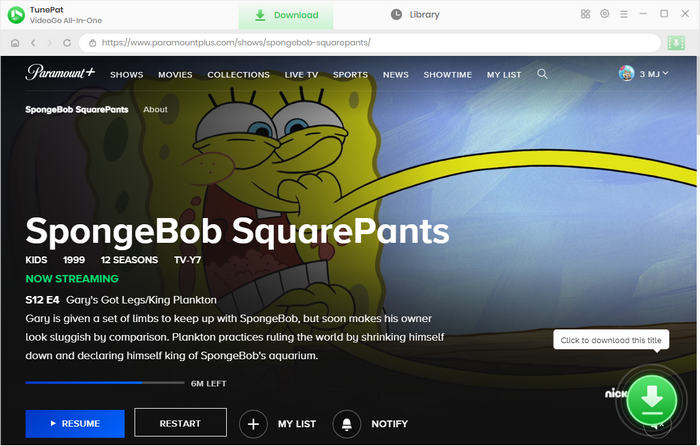 Step 4 Choose the Download Settings
Click the "Gear" icon on the upper right to open the settings window. In the "Download Settings" tab, you are allowed to set video format and video quality and choose the language of audio and subtitles, as well as the type of subtitles. Apart from this, you can change the download location if you want to save the downloads to an external drive.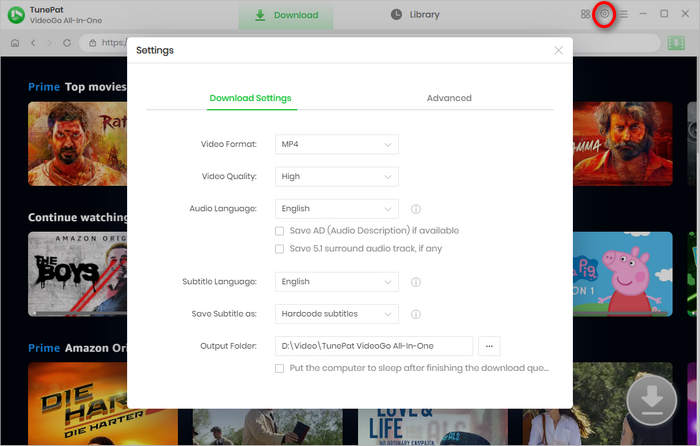 Step 5 Choose the Advanced Download Settings
When downloading a movie, you will see an icon next to the "Download" icon. This option provides you with more specific download settings including video quality, audio language, and subtitles language. If you want to choose the advanced download settings for TV shows, click the "Download" icon and the "Advanced Download" button will appear on the bottom left of the pop-up window.
Step 6 Start Downloading Paramount Plus Video
Click the "Download" button and the program will add the selected video(s) to the download queue on the right side pane. You can continue finding and adding videos to the download queue. When a video is downloaded, go to the "Library" tab and find the local file on your computer. Now you can watch the video offline on your computer.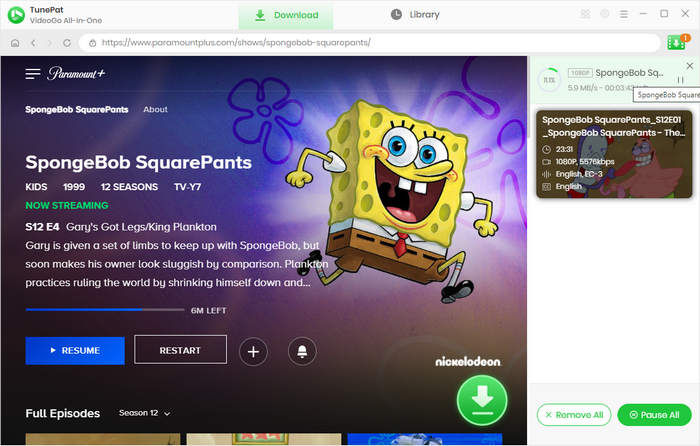 Summary
With an Essential plan on Paramount Plus, it's still possible to download ad-free videos for offline viewing just like the Premium users. Just download VideoGo All-In-One and you will be able to download Paramount Plus videos easily and watch them on any device even when there is no internet connection. VideoGo enables you to download Paramount Plus videos to your computer and save videos in MP4 or MKV format so that you can play them on any device. The most important thing is that VideoGo permanently saves videos on your device, so you can still watch them offline at any time even if your subscription ends.
Note: When downloading videos from streaming sites including Netflix, Prime Video, Disney+, Hulu, HBO Max, Paramount+, and Discovery+, the free trial version of VideoGo can only download the first five minutes of each video. To unlock the limitation, you are suggested to purchase the full version.