If you search for "how to download YouTube videos" on Google, you'll likely come across related queries like "How do I download YouTube on my computer?" or "How do I download YouTube videos to my computer without the app?". There seems to be a considerable number of people interested in downloading YouTube videos to their computers. However, downloading videos from YouTube is generally restricted to those that have been uploaded by the user themselves. If you want to download other videos from YouTube to your computer, the option available is to subscribe to the YouTube Premium Plan, which costs $13.99 per month. Nevertheless, even as a Premium member, it's important to keep in mind that the offline content you download can only be stored for a maximum of 30 days.
If you're searching for a free method to download YouTube videos to your computer, you've come to the perfect destination. Allow us to present you with VideoGo All-In-One, a secure and trustworthy YouTube free downloader. This incredible tool enables you to download YouTube videos directly to your computer without the YouTube app. Rest assured, VideoGo All-In-One prioritizes your privacy and does not collect any of your personal information. To gain a comprehensive understanding of VideoGo All-In-One, please keep reading the following content.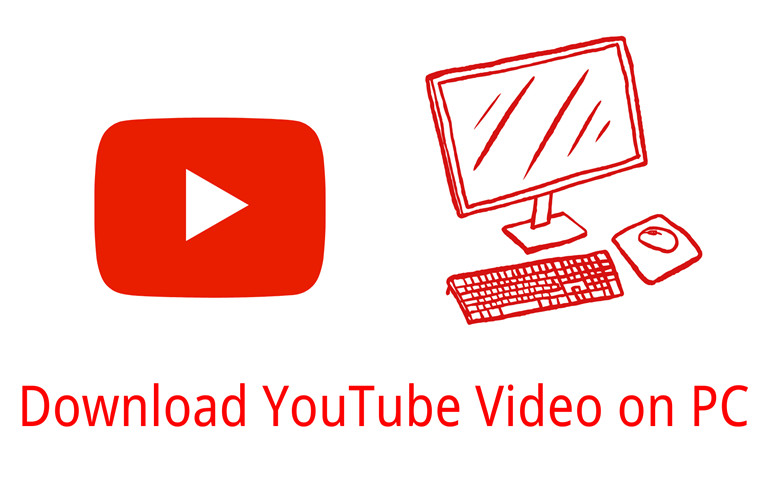 Free YouTube Downloader: VideoGo All-In-One
VideoGo All-In-One is an ultimate video downloader designed to provide you with a seamless experience in acquiring videos from various popular social media platforms like YouTube, TikTok, Vimeo, and Facebook. This comprehensive tool enables hassle-free downloads of videos in 1080p/2k/4k/8k resolution, surpassing the limits imposed by YouTube downloads. You can effortlessly obtain high-quality MP4 videos from YouTube, absolutely free of charge, and with no restrictions on the number of downloads. Moreover, all your downloaded videos will be permanently saved on your device. With VideoGo All-In-One, you'll enjoy the flexibility of watching downloaded videos on a wide range of devices, not just limited to mobiles.
Beyond social media platforms, VideoGo also allows you to download videos from streaming giants like Netflix, Prime Video, Disney+, Max, CBS, and more. Experience the convenience and freedom of video downloading with VideoGo All-In-One, your go-to solution for accessing and preserving your favorite videos from all corners of the internet.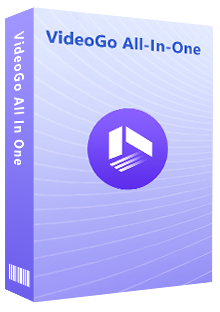 VideoGo All-In-One
A comprehensive tool for downloading unlimited videos from multiple streaming sites with ease.
Free download videos from YouTube, Facebook,Twitter, other webistes.
Download videos in 720p, 1080p, 2K, 4K or 8K.
Save YouTube videos as MP4 files.
Preserve original audio tracks and subtitles in multiple languages.
Play the downloaded videos anytime, anywhere without limits.
Download
Download
Guide: Download YouTube Videos with VideoGo All-In-One
VideoGo All-In-One offers an intuitive interface and a wide range of features that make video downloading a breeze. Now, let's learn how to use VideoGo All-In-One to download YouTube videos on a computer.
Step 1

Select Youtube as the Download Website

Start by downloading VideoGo All-In-One from the official website and follow the installation instructions provided. The software is compatible with both Windows and Mac operating systems. When you run the program for the first time, you need to choose a website from which you want to download videos. So please click the YouTube icon in the window, then the program will connect to the corresponding website.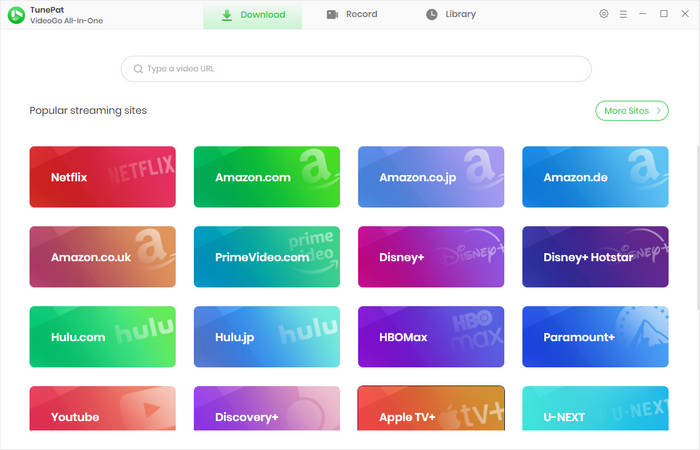 Step 2

Choose the Output Settings

VideoGo All-In-One will present you with various video quality and subtitle mode options to choose from. You can open the "Settings" window by clicking the upper-right gear icon. Keeping in mind that higher quality videos take up more storage space.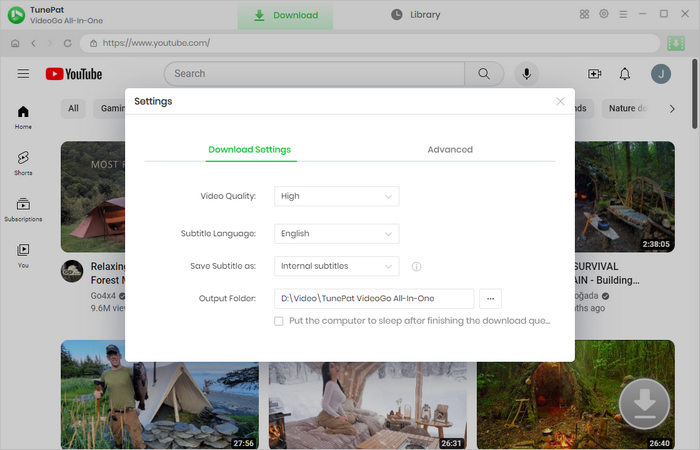 Step 3

Search for YouTube Video

Open your web browser and navigate to the YouTube video you want to download. Copy the video's URL from the address bar at the top of the browser and paste it into VideoGo. The software will automatically recognize the YouTube video and begin analyzing it.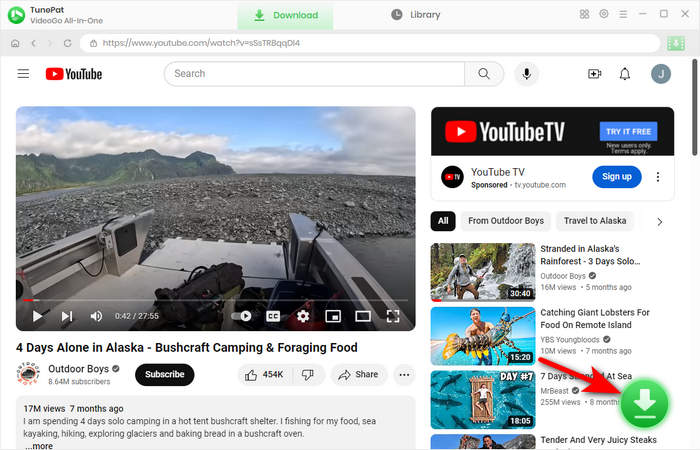 Step 4

Download YouTube Video

After completing the previous steps, click the "Download" button to start the video download. The download progress will be displayed on the screen, and you can pause or cancel the process at any time. Once the download is finished, navigate to the selected download location to find the saved video. You can now enjoy the video offline whenever you want, without any internet connection.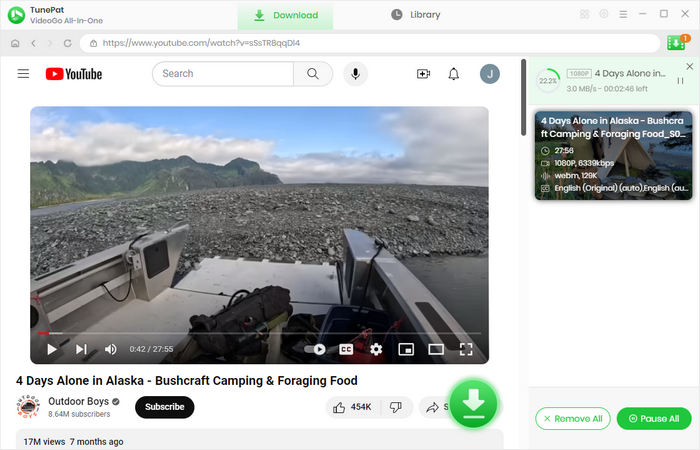 Final Word
With VideoGo All-In-One, downloading YouTube videos on your computer becomes a simple and hassle-free task. You can download YouTube videos not only to your computer, but to any device you want. Whether you wish to watch videos offline or save them for future reference, this versatile software provides all the necessary tools. Happy downloading!
Note: When downloading videos from streaming sites including Netflix, Prime Video, Disney+, Hulu, HBO Max, Paramount+, and Discovery+, the free trial version of VideoGo can only download the first five minutes of each video. To unlock the limitation, you are suggested to purchase the full version.