YouTube is the second largest website across the globe as well as the largest video-sharing platform in fact. It encounters fresh competitors every year, but no challenger has been able to unseat it from the top. One of the reasons why it is popular with the masses is that it offers high-resolution videos up to 8K. But frustratingly, if you want to watch these high-definition videos offline, you have to subscribe to its YouTube Premium plan. Therefore, it is impossible for people who don't pay extra cost to get a Premium account to download YouTube videos in 1080P/2K/4K/8K. Don't fret. This article introduces a video downloader - VideoGo All-In-One, to help you easily download YouTube Videos in 1080P/2K/4K/8K for free.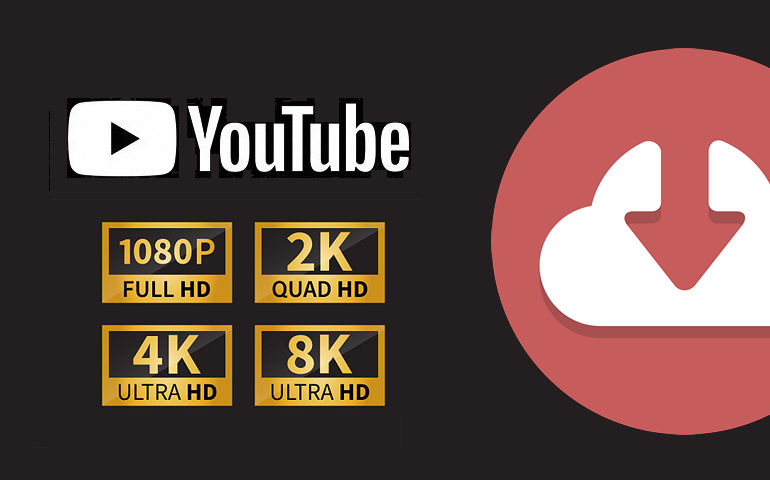 Why Choose VideoGo All-In-One?
VideoGo All-In-One is a versatile video downloader for easily downloading videos from streaming services and social media platforms. Here are some potent reasons why we highly recommend using this VideoGo All-In-One:
1. Easy-to-use: VideoGo has a concise interface and is user-friendly which makes it suitable for all users. It just takes a few steps to download a video from YouTube. For example, simply copy and paste a YouTube video URL into the program, select the output settings, and finally download it to your device.
2. Supports over 15 sites: VideoGo supports downloading videos and shows from popular streaming services and social media platforms, including Netflix, Amazon, Disney+, Hulu, HBO Max, Paramount+, Discovery+, YouTube, TikTok, Facebook, and more. And downloading videos from social media is free and does not require you to have a separate subscription plan.
3. Offline viewing: VideoGo allows you to download unlimited videos and shows for offline viewing on any device as you like. The downloaded videos are permanently saved on your device and can always be accessed unless you delete them from your device. The more important point is that some streaming services have launched a subscription plan that doesn't offer an offline feature. But VideoGo can still help you download the video you want.
4. High-definition and ad-free video: VideoGo supports downloading videos with different video quality that depends on various platforms. The highest quality available for YouTube downloads is 8K (depending on the quality of the original video). Videos from Disney+, Hulu, and HBO Max can download up to 720p. Videos from other sites can be downloaded up to 1080p. Plus, all downloaded videos are free of ads by default.
5. Customize your video: VideoGo enables you to set up the video according to your needs. You can choose the video format (MP4/MKV), video quality (from 320p to 8K), the languages of audio and subtitles. It also offers two video codecs: H.265 and H.264, which allows you to save videos with higher definition but in smaller file sizes.
6. Fast download speed: In addition to supporting hardware acceleration to speed up the download speed, VideoGo also adopts a new technology that can download an episode of a TV series within 10 minutes and a movie within 20 minutes.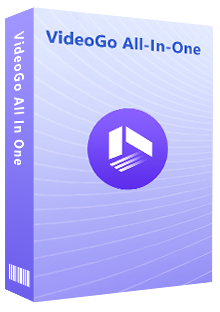 VideoGo All-In-One
A comprehensive tool for downloading unlimited videos from multiple streaming sites with ease.
Free download videos from YouTube, Facebook,Twitter, other webistes.
Download videos in 720p, 1080p, 2K, 4K or 8K.
Save YouTube videos as MP4 files.
Preserve original audio tracks and subtitles in multiple languages.
Play the downloaded videos anytime, anywhere without limits.
Download
Download
How to Download YouTube Videos in 1080P/2K/4K/8K?
Before starting the following guidance, please download the latest version of VideoGo All-In-One that matches your computer system. VideoGo works on Windows 11/10/8/8.1/7 and macOS 10.15 to macOS 14.
Step 1Select Download Website
Launch VideoGo on your computer and if it's your first time using this program, you need to choose the website where you want to download the video. Choose "YouTube" and click "OK" button, and then the program will restart to connect to the corresponding site.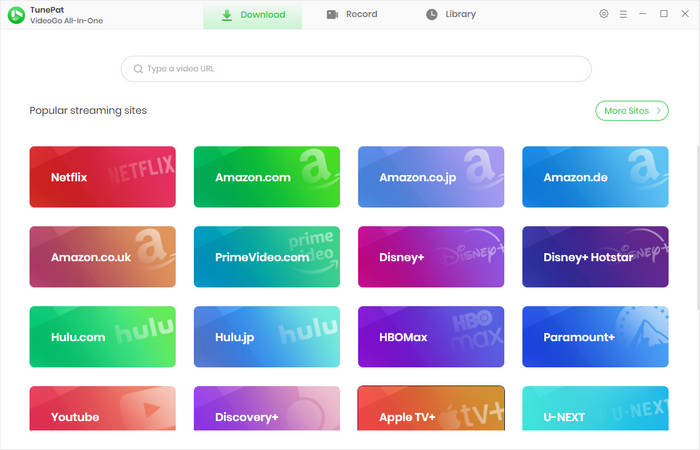 Step 2Set the Output Settings
There is a "Gear" icon on the upper right corner of the program that allows you to set up your video configuration, including the video quality, subtitle language, subtitle format, and output folder. In "Account Settings" tab, you can change the download website if you want to download videos from other streaming sites.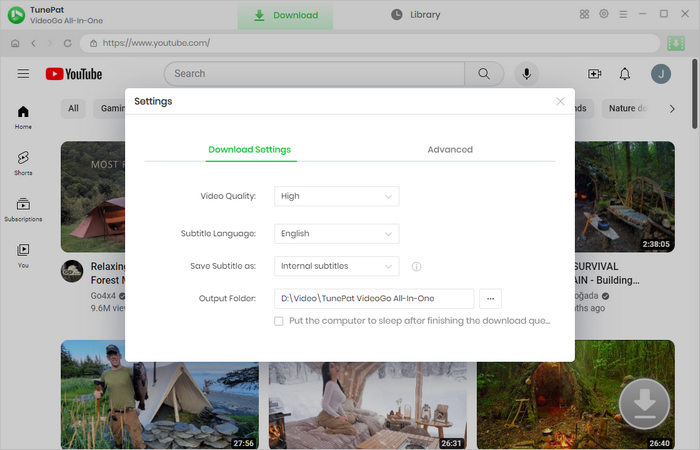 Step 3Search for Video
Copy the link of the video from the YouTube website into the search bar of VideoGo, which can directly find the video you want in seconds. Armed with a smart search engine, it also allows you to search the video by entering the video name or keyword.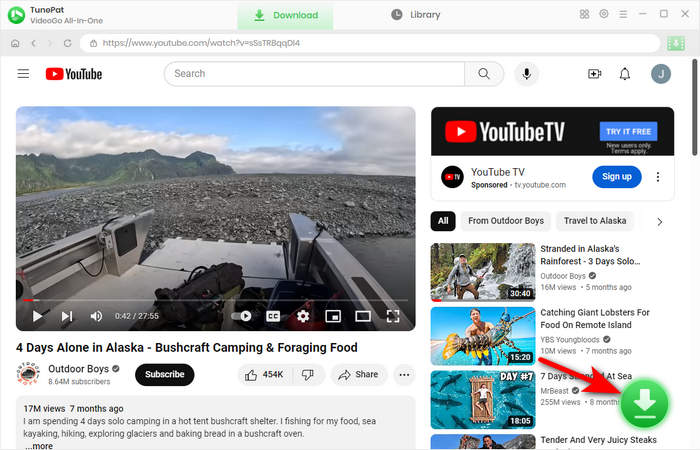 Step 4Choose the Advanced Download Settings
VideoGo offers an "Advanced Download" function that enables you to select more specific video quality with different file sizes, audio languages, and subtitles languages. To open this settings window, click the icon next to the "Download" icon. Here, you can choose a higher-definition video clarity, such as 1080P, 4K, or 8K (in the case of the video provided). In addition, it is capable to download video, audio, or subtitles separately.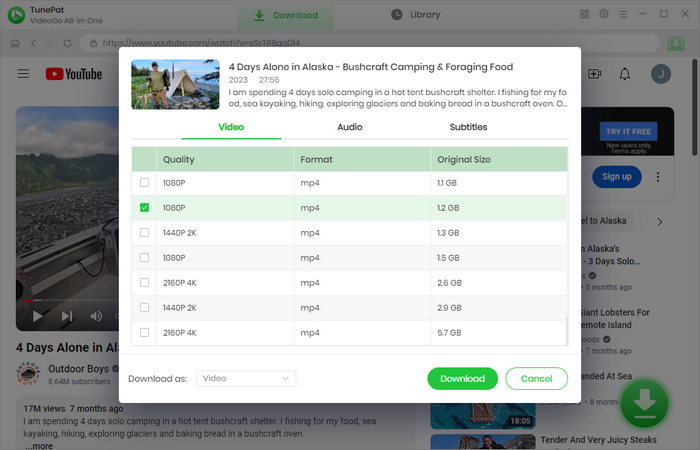 Step 5Download YouTube Video in 1080P/4K/8K
After setting the above parameters, click the "Download" button to start downloading the video. In the pane on the right side of the program you can see the video being downloaded and its specific information. During the download process, it is available to continue to add the videos you want to download to the download queue.
Once finished, go to "Library" to check the downloads. You can choose to play directly on the computer or move the video file to any device you want.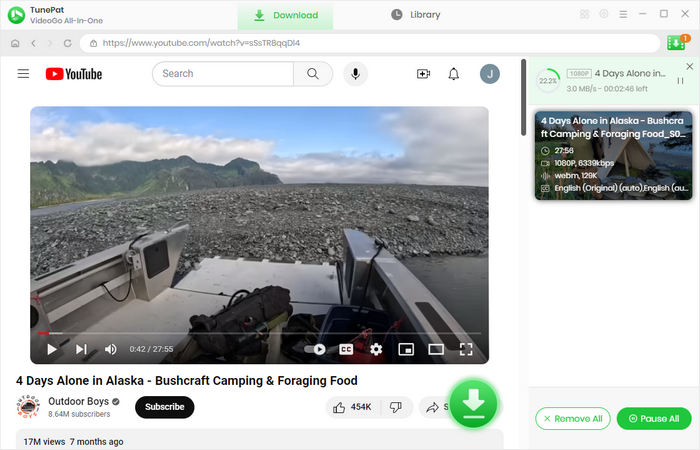 Final Word
With all these advantages, VideoGo All-In-One is undoubtedly your best choice for downloading YouTube videos in 1080P/2K/4K/8K. It only takes a few steps to easily download high-definition YouTube videos without advertisements to your device. Besides, you don't need to pay extra to subscribe to the Youtube Premium plan. This all-in-one video download will definitely meet your needs. Action is better than heart. Download it now and try it.
Note: When downloading videos from streaming sites including Netflix, Prime Video, Disney+, Hulu, HBO Max, Paramount+, and Discovery+, the free trial version of VideoGo can only download the first five minutes of each video. To unlock the limitation, you are suggested to purchase the full version.