Netflix is a popular streaming platform that allows multiple users to share an account, making it a cost-effective way for friends and family to enjoy their favorite shows and movies. However, Netflix has finally rolled out its controversial measures to crack down on password sharing, specifically sharing passwords with those not living under one roof, which has raised concerns among users. This article will explore alternative ways to share Netflix videos without sharing your account, addressing frequently asked questions about Netflix's account-sharing policies.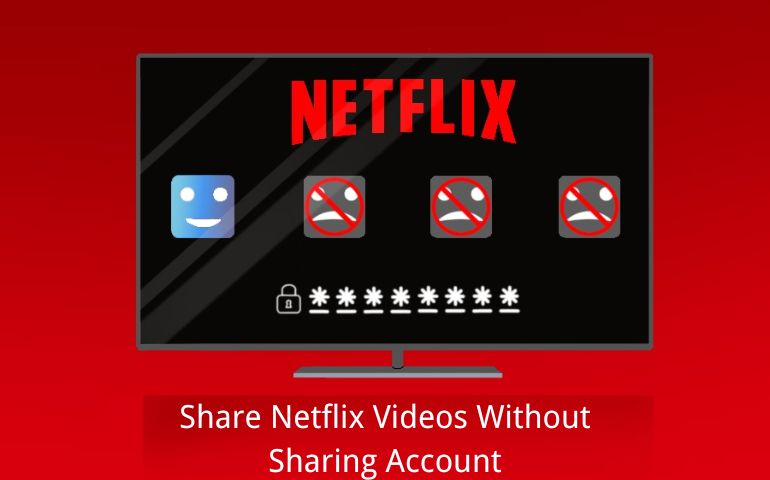 Part 1: Three Ways to Share Netflix Videos Without Sharing Your Account
Method 1. Share Videos Using Netflix Party
Netflix Party, now called Teleparty, is a browser extension that allows you to synchronize video playback with friends, chat in real-time and share all the feels as well. No matter the distance between you, this browser extension can help you stream millions of great content together with your friends by sharing the video link instead of your Netflix account. In addition to creating Teleparties on Netflix, it also enables you to share videos from YouTube, Hulu, Disney Plus, HBO Max, and Amazon Prime and gives you access to HD-quality videos on mobile and desktop devices. Start enjoying Netflix videos remotely with your friends by following the below steps.
Step 1 Install Teleparty extension to Chrome and don't forget to pin it.
Step 2 Go to the Netflix website and log in with your account. Find the video you want to share with friends and make sure it is playing. Click on the red TP button to host your TP Teleparty chat room.
Step 3 Share the link with your friends to invite them to your party. Once they join, you can start watching the video and chat at the same time.
You can share a video link with more than 1,000 people to watch it together, as long as anyone who receives the link has a Netflix account.
Method 2. Buy An Extra Member Slot
As mentioned, a Netflix account is meant to be shared by people who live together in one household. If you want to share your Netflix with people outside the household, you can buy an extra member slot and invite people to watch Netflix. An extra member will have their own profile, account, and password, and enjoy many of the same benefits as other Netflix members, such as unlimited access to award-winning TV shows, movies, documentaries, and more, and enjoy the same video and audio quality as the member who invited them.
Netflix members who have a Standard or Premium plan can add an extra member by buying an extra member slot. The Standard plan can add 1 extra member while the Premium plan can add 2 extra members. Please follow the introductions below to add an extra member.
Step 1 Buy an extra member slot.
Step 2 Invite an extra member.
Step 1 Your extra member sets up their own account and uses it to enjoy Netflix.
Please note that the extra member must be activated in the same country where the account owner created their account.
Method 3. Download Netflix Videos with A Third-party Tool - VideoGo All-In-One
Another way to share Netflix videos without sharing your account is by downloading videos from Netflix and sharing the downloads with others. The problem, however, is that even if you find the downloaded files and share them with others, the recipients won't be able to watch them on their own devices because Netflix offers digital content that can only be played on authorized devices using the Netflix app. Thus, the primary task is to download Netflix movies and TV shows in a widely used file format like MP4. This is where VideoGo All-In-One comes into play. It can help you download what you want from Netflix and save them as MP4 or MKV files ensuring that the downloaded videos are still playable after sharing with others.
VideoGo All-In-One is designed for downloading movies and TV shows from streaming video services. It supports downloading videos from Netflix, Amazon Prime Video, Disney Plus, Hulu, HBO Max, Paramount Plus, Discovery Plus, and other social media. With VideoGo All-In-One, you can enjoy your downloaded videos offline on any device, whether you're on a plane, in a remote area, or just looking to save on data.
It can download videos from Netflix without loss in video and audio quality and supports saving multi-language audio and subtitles for each video. No matter which Netflix subscription tier you have, VideoGo All-In-One can help you download ad-free videos from Netflix and enables you to share your downloads with anyone without sharing your account.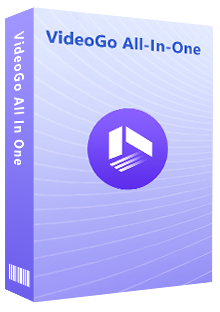 VideoGo All-In-One
A comprehensive tool for downloading unlimited videos from multiple streaming sites with ease.
Download movies & shows from Netflix without the Netflix app.
Download 1080p videos from Netflix.
Save Netflix videos as MP4 or MKV files.
Preserve original audio tracks and subtitles in multiple languages.
Play the downloaded videos anytime, anywhere without limits.
Download
Download
Steps to Use VideoGo All-In-One to Download Videos from Netflix
Step 1

Log in to Netflix

Launch VideoGo Allin-In-One on your computer and then choose "Netflix" as the streaming site. Enter any word into the search bar and click the "Enter" button, and then you will see the log in window. Please enter your Netflix account and password.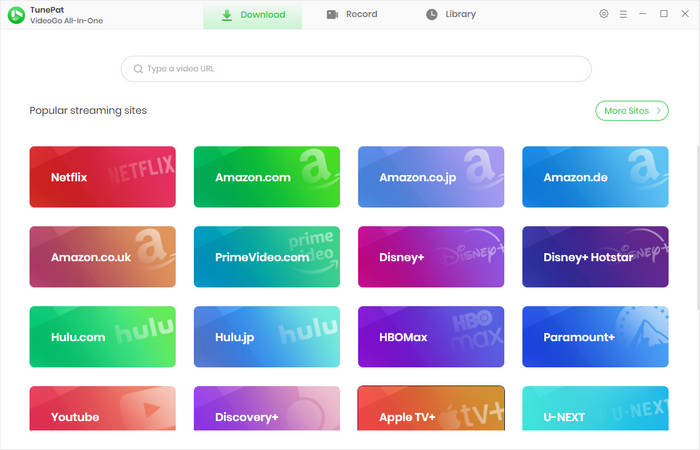 Step 2

Find Netflix Video

Enter the video name into the search bar and hit "Enter" button, or directly copy and paste the video's link from the Netflix web player to the search bar to find your desired video.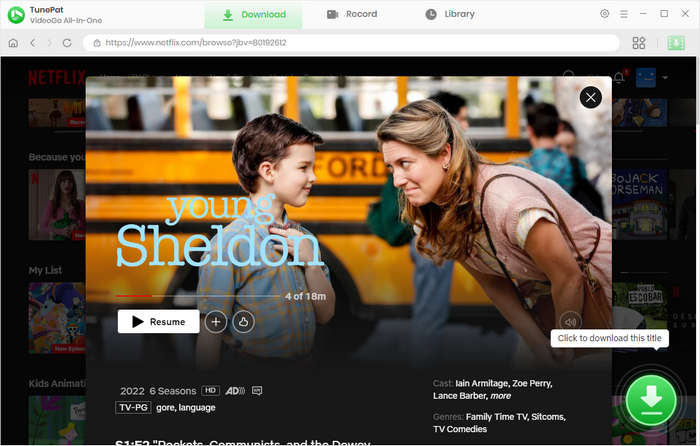 Step 3

Choose the Output Settings

Click the "Settings" icon on the top right corner to choose the output format (MP4/MKV) and video quality (High/Medium/Low). Besides, you can choose the video quality, audio tracks, and subtitles in more detailed information in the Advanced Download settings.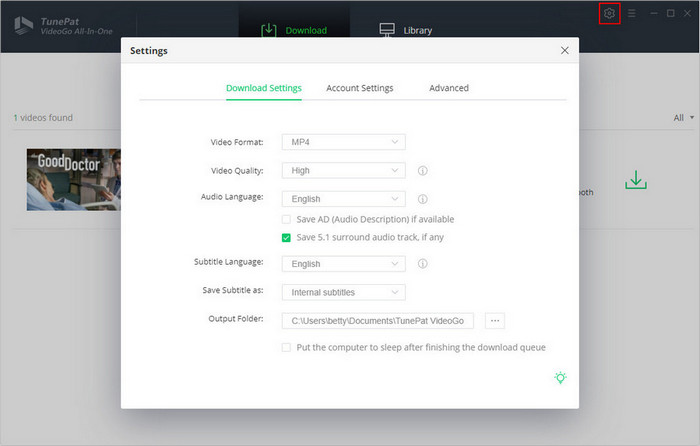 Step 4

Download Netflix Video on Your Computer

Now you just need to click the "Download" button to download the selected videos on your computer. Once downloaded, you can find the downloaded videos in the "Library" tab.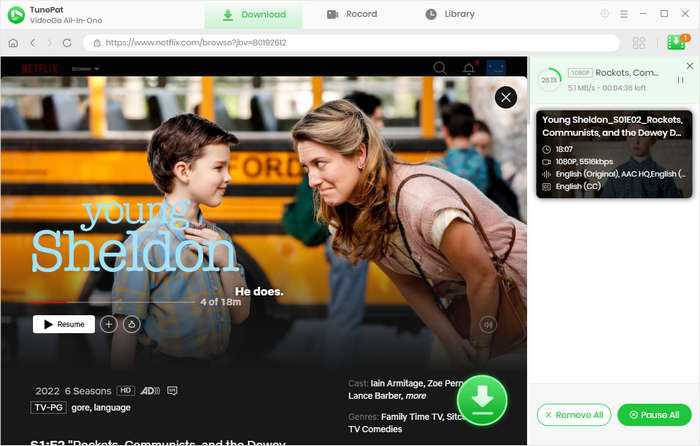 Step 5

Share Netflix Downloads with Friends Freely

You can copy downloaded videos to a USB drive or upload them to Google Drive or Dropbox to share with friends.
Part 2: FAQs About Netflix Stops Account Sharing
Q1.Why Netflix Account Sharing Crackdown?
Netflix is facing financial difficulties due to increased competition from other streaming services, including Disney+, HBO Max, Paramount+, Peacock, and Apple TV+. These challenges are compounded by the current global economic downturn. At the beginning of 2022, Netflix experienced a slowdown in its subscriber growth, and for the first time in ten years, the company reported a decline in its subscriber base. The company attributed this decline in part to password sharing.
Q2. When is Netflix ending password sharing?
In February of this year, Netflix started to crack down on password sharing in Canada, Spain, and other countries. On May 23, Tuesday, the company announced that it is now starting to take action against traditional password sharing in the United States.
Q3. How does Netflix know if you are sharing your account?
Netflix will crack down on password sharing by checking location. To identify who shares their accounts, the company is monitoring the devices used to access the platform. In order to prevent password sharing, Netflix will require devices to periodically check in at the account holder's home location, typically once a month. When Netflix detects that someone outside of the household is sharing the password, it will block the device and give them the option to add their own account.
Q4. How much does it cost to share your Netflix account?
1. Log into your account.
2. Tap on your profile icon in the upper right-hand corner.
3. Tap on "Account."
4. Scroll down to "Security and Privacy" and tap on "Manage access and devices."
5. You will see the most recent devices active on your account.
Q5. How much does it cost to share your Netflix account?
Now, Netflix is implementing a policy where subscribers will be required to pay an additional fee in order to share their accounts with individuals outside of their households. Under the new policy, users subscribed to the standard $15.49 per month plan can pay an additional $7.99 to allow one other person to use their account. Meanwhile, the premium plan which costs $19.99 provides an extra sharing slot without any additional charge.
Conclusion
In conclusion, as Netflix tightens its crackdown on sharing accounts, the rules surrounding account sharing have become more restrictive. However, in this article, we have introduced three alternative methods to share Netflix videos without sharing your Netflix account. Among these methods, the third option stands out as the best choice for individuals who wish to share Netflix videos without any limitations.
VideoGo All-In-One is the ultimate solution for those who crave flexibility, convenience, and control over their entertainment choices. It has the ability to download movies and TV shows from more than 15 streaming sites, including Netflix. With it, you can download what you want from Netflix and transfer your downloads to any device for offline viewing. No worry that the downloaded videos will disappear or become inaccessible in the future, the downloaded videos will be permanently stored on your device and can be played at any time.
Note: When downloading videos from streaming sites including Netflix, Prime Video, Disney+, Hulu, HBO Max, Paramount+, and Discovery+, the free trial version of VideoGo can only download the first five minutes of each video. To unlock the limitation, you are suggested to purchase the full version.