At present, YouTube stands as the largest global video platform, drawing in tens of thousands of users who both peruse and upload content on a daily basis. While individuals derive pleasure from streaming videos online, there are instances when they seek to access these videos offline. Take, for instance, situations such as embarking on a flight, embarking on a lengthy journey, entering an area with subpar network connectivity, and more. During such times, having pre-downloaded videos at hand serves as a fruitful means of passing time.
For those with the YouTube app already installed, the option to download desired videos directly from the application is available. However, due to the desire to conserve device storage space, many users opt to stream videos directly through their web browsers. But how do these users manage to download YouTube videos? There's no need for concern; this article will elucidate two distinct methods for downloading YouTube videos via the Google Chrome browser—one tailored for YouTube Premium subscribers and the other catering to free users. Continue reading to uncover these approaches.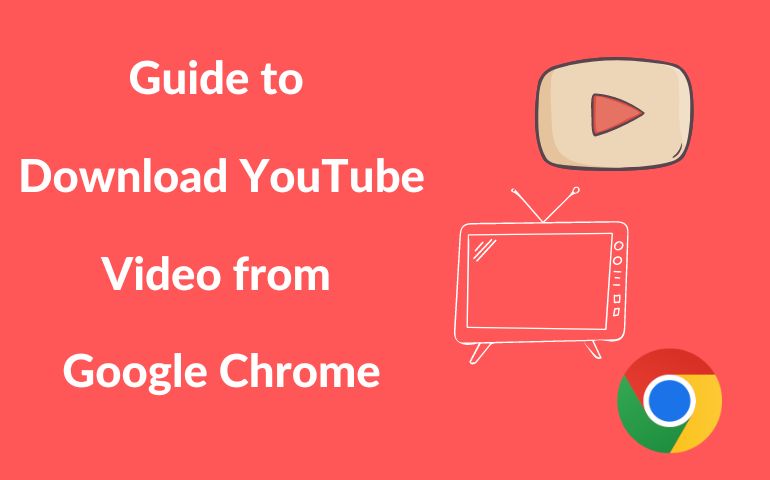 Part 1: Download YouTube Video from Google Chrome for Premium Users
Your YouTube Premium account YouTube to download YouTube videos from Google Chrome, making it easier than ever to enjoy your favorite content without worrying about internet availability.
Step 1. Access Your YouTube Premium Account: begin by launching your preferred web browser and navigating to the YouTube website (youtube.com). Ensure that you are signed in to your YouTube Premium account. This account type provides you with the privilege of downloading videos for offline viewing.
Step 2. Navigate to the Video's Watch Page: once you've found the desired video, click on its thumbnail or title to access its dedicated watch page. This is the page where you can view details about the video, including its description, comments, and related videos.
Step 3. Initiate the Download: On the video's watch page, scroll down slightly below the video player. You will find a set of options and icons related to the video. Among these icons, you'll see the Download icon. It typically resembles an arrow pointing downward. Click on this icon to initiate the download process.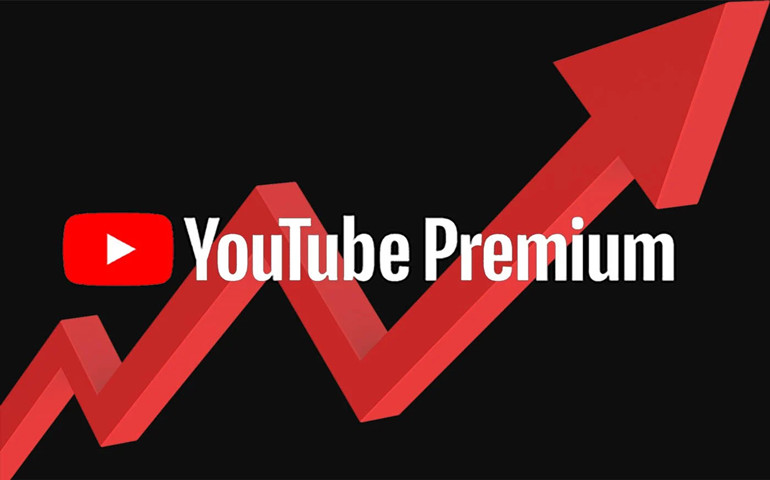 Part 2: Download YouTube Video from Google Chrome for Free Users
VideoGo All-In-One is an exceptional video downloader designed to empower YouTube free users by enabling video downloads directly from Google Chrome. This no-cost utility offers robust support for downloading YouTube videos at resolutions up to 8K, while also retaining subtitles in numerous languages. What sets it apart is its capability to facilitate unrestricted video downloads from YouTube without any additional charges.
Beyond its YouTube capabilities, VideoGo All-In-One boasts versatility, extending its download functionality to various other social media platforms including Facebook, Twitter, and TikTok. Additionally, it extends its prowess to streaming video services like Netflix, Amazon Prime Video, Disney+, and more. Notably, when acquiring streaming videos, the tool offers an array of output settings, affording you greater control. This empowers you to download your preferred movies and shows, granting the freedom to enjoy them at your convenience, no matter where you are.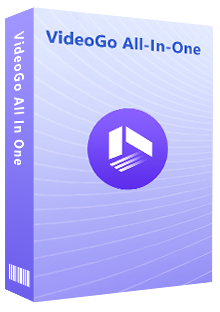 VideoGo All-In-One
A comprehensive tool for downloading unlimited videos from multiple streaming sites with ease.
Free download videos from YouTube, Facebook,Twitter, other webistes.
Download videos in 720p, 1080p, 2K, 4K or 8K.
Save YouTube videos as MP4 files.
Preserve original audio tracks and subtitles in multiple languages.
Play the downloaded videos anytime, anywhere without limits.
Download
Download
Guide: Download YouTube Video from Google Chrome with VideoGo
Video Go-All-In-One offers an intuitive interface and a wide range of features that make video downloading a breeze. Now, let's learn how to use Video Go-All-In-One to download YouTube videos on a computer.
Step 1

Select YouTube as the Download Website

Click the Download button above to download VideoGo All-In-One immediately, the software is compatible with both Windows and Mac operating systems. When you run the program for the first time, you need to choose the website from which you want to download the video. Therefore, click on the YouTube icon in the window and the program will recognize the corresponding site.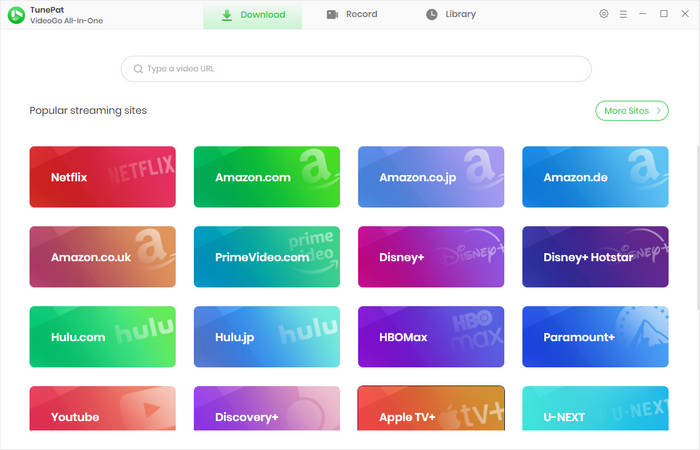 Step 2

Search for YouTube Video

Open the YouTube website in Google Chrome and find the video you want to download. Copy the video's URL from the address bar at the top of your browser and paste it into VideoGo. The software will list the search results with the fastest speed.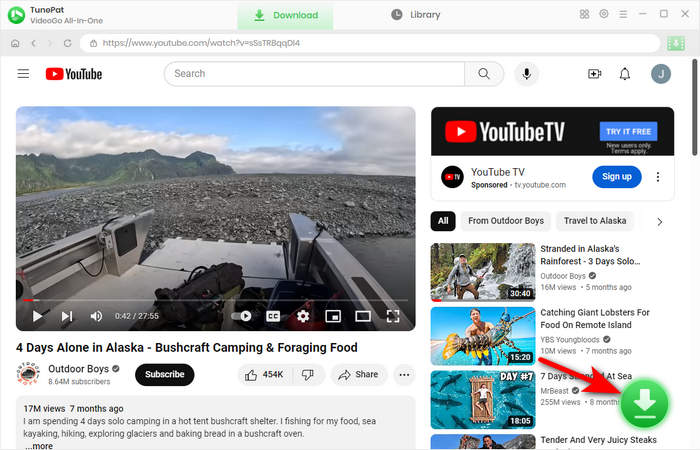 Step 3

Download YouTube Video

The last step is just to click the "Download" button to start the video download. The download progress will be displayed on the screen and you can pause or cancel the process at any time. Once the download is complete, you can watch the video offline anytime without any internet connection.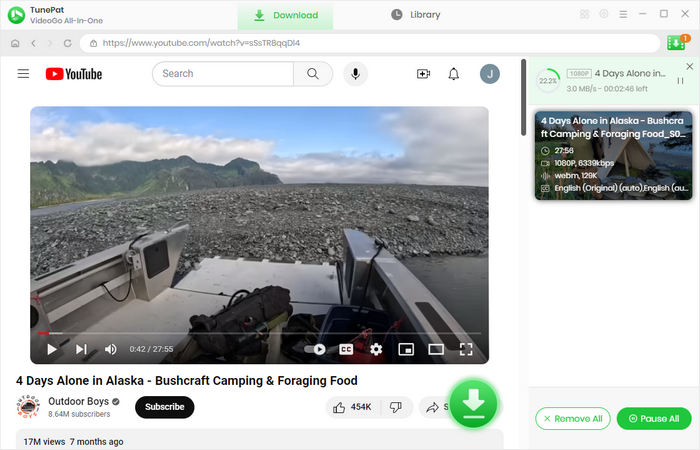 Part 3: Conclude
With VideoGo All-In-One, you can download unlimited YouTube videos from Google Chrome even if you don't subscribe to a YouTube Premium Plan. This reliable program doesn't charge you anything and allows you to permanently save downloaded videos or move them to any device for playback. Besides downloading YouTube videos, you can also try this program to download your desired videos from other video sites or streaming platforms.
Note: When downloading videos from streaming sites including Netflix, Prime Video, Disney+, Hulu, HBO Max, Paramount+, and Discovery+, the free trial version of VideoGo can only download the first five minutes of each video. To unlock the limitation, you are suggested to purchase the full version.