YouTube is home to a vast library of videos covering virtually every topic imaginable, from educational content to entertainment and more. However, sometimes you might want to save your favorite videos offline for later viewing, or you may need to transfer videos to another device. One way to achieve this is by moving YouTube videos to a USB drive. In this article, we will guide you through the process of downloading and transferring YouTube videos to a USB drive.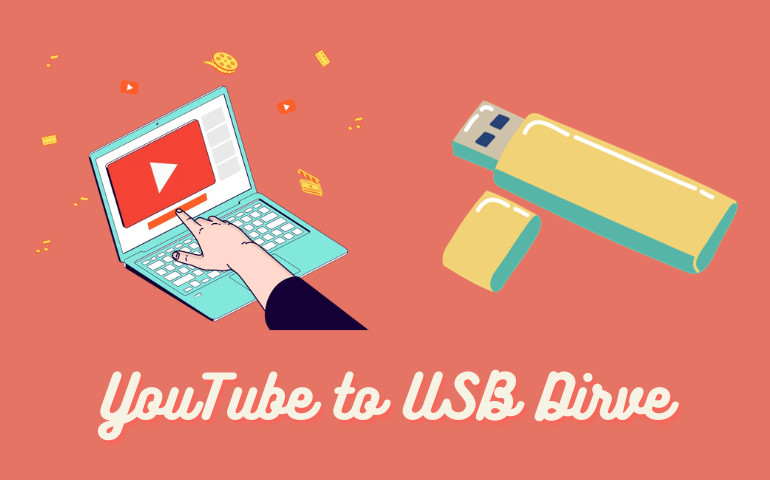 The Advantages of Moving YouTube Video to USB Drive
Portability: USB drives are small, lightweight, and easily portable. You can carry your favorite videos with you and play them on different devices that support USB playback, such as smart TVs, laptops, or media players.
Content Preservation: If there's content on YouTube that you want to ensure you have access to even if it's taken down or if you want to keep a copy for archival purposes, downloading and storing on a USB drive can be a good solution.
Custom Playlists: Organize Content: You can create custom playlists by downloading specific videos and organizing them on the USB drive, allowing for a personalized viewing experience without relying on YouTube's algorithms.
The Solution: VideoGo All-In-One - A Free YouTube Video Downloader
VideoGo All-In-One is a powerful and user-friendly tool that allows you to download YouTube videos and save them to a USB drive. This software is free to use and compatible with both Windows and Mac operating systems. It provides a simple and efficient way to bypass YouTube's download restrictions, making it a valuable resource for free users. It also serves as a versatile tool, capable of downloading videos from over 15 streaming platforms. This versatile solution facilitates the download of movies, TV series, and videos in various resolutions, including 720p, 1080p, and even 8K. Furthermore, it provides the option to save the videos in either MP4 or MKV format, ensuring compatibility with a wide array of devices and media players.
Notably, VideoGo All-In-One distinguishes itself by preserving the original audio tracks and subtitles in multiple languages, granting viewers the flexibility to enjoy content in their preferred language. Additionally, this tool boasts hardware acceleration and a unique download core, ensuring swift and stable download performance. Whether you're seeking to download YouTube videos or content from other platforms, VideoGo All-In-One guarantees rapid downloads, allowing you to permanently store the video files on your device for offline viewing.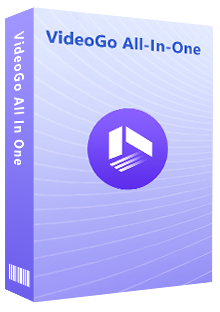 VideoGo All-In-One
A comprehensive tool for downloading unlimited videos from multiple streaming sites with ease.
Free download videos from YouTube, Facebook,Twitter, other webistes.
Download videos in 720p, 1080p, 2K, 4K or 8K.
Save YouTube videos as MP4 files.
Preserve original audio tracks and subtitles in multiple languages.
Play the downloaded videos anytime, anywhere without limits.
Download
Download
Steps to Download and Move YouTube Videos to USB Drive
Step 1 Install VideoGo All-In-One and Choose Download Site
First download and install VideoGo All-In-One on your computer. Then select "YouTube" on the Select Website page.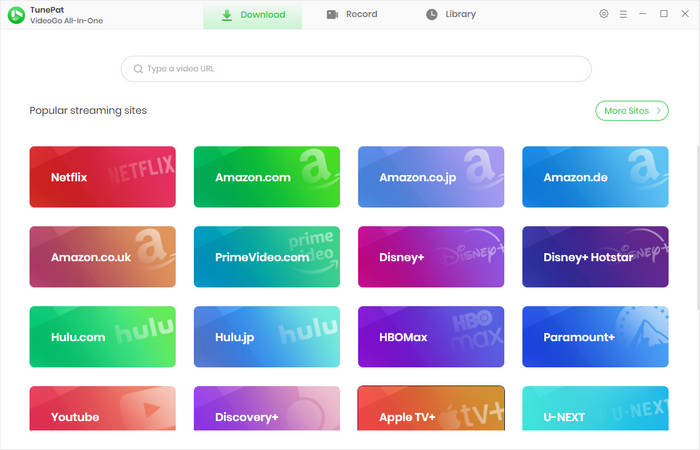 Step 2 Choose the Download Settings
Click the upper-right gear icon and VideoGo All-In-One will present you with options to select the video quality, output path, and so on. Here you can choose the settings that best suit your preferences.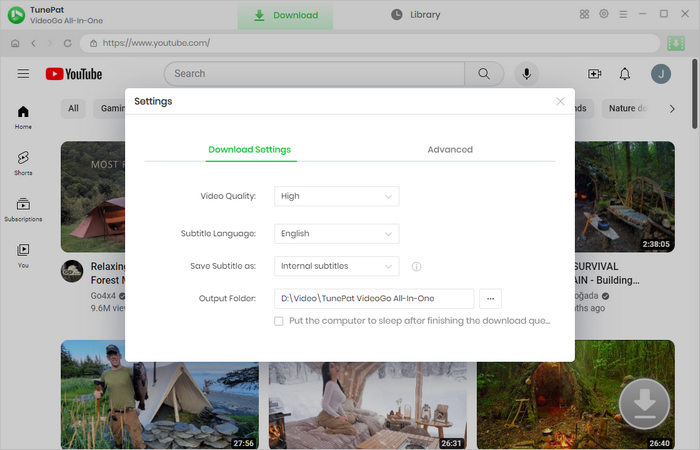 Step 3 Search for YouTube Video
Open your web browser, go to YouTube, and find the video you want to download. Copy the video's URL from the address bar and paste it into VideoGo. The software will automatically analyze the YouTube video.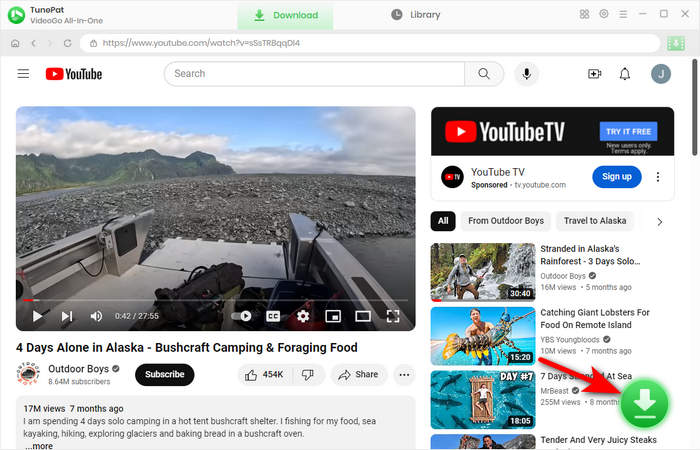 Step 4 Choose Advanced Download Settings
The "Advanced Download" icon is located on the right side of the "Download" icon. This option allows you to select audio tracks and subtitles in different languages, if available from the original video. Plus, there are more detailed video quality parameters for you to choose.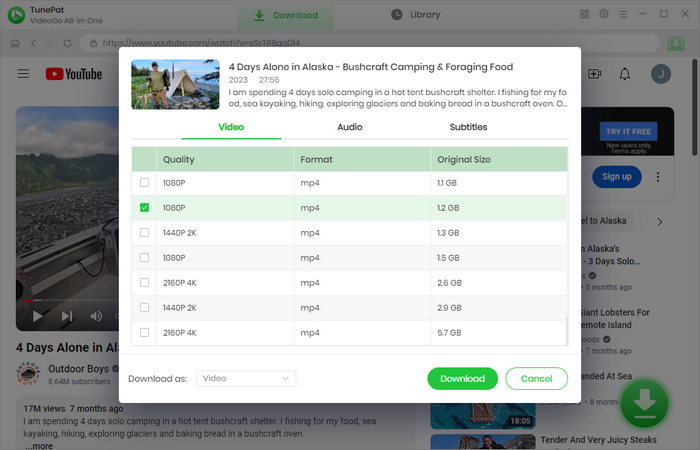 Step 5 Download YouTube Video
Finally, after choosing the advanced settings, click the "Download" button to download YouTube videos on your computer. They will be downloaded in MP4 format and saved forever on your device.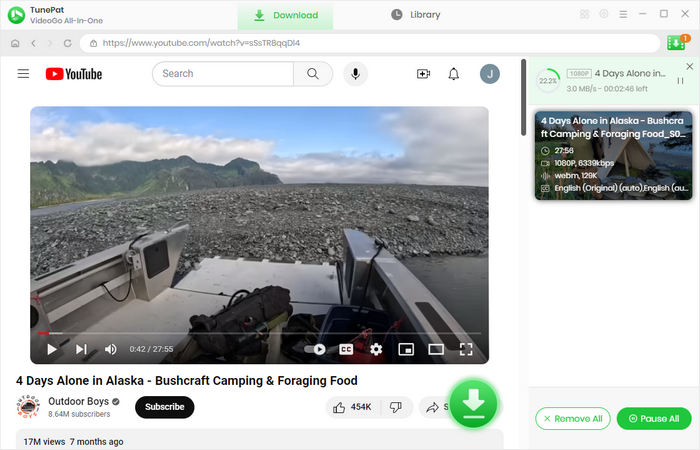 Step 6 Save YouTube Video to USB Drive
When the download is complete, you can insert your USB drive into the PC and move the downloaded files into your USB drive. Once the transfer is completed, you can safely eject your USB drive and watch the video on any compatible device. No internet connection is required, and you can share the video with others or keep it for future reference.
Final Word
VideoGo All-In-One is a valuable tool for YouTube users who want to download and save videos to a USB drive without the need for a YouTube Premium subscription. With its simple and user-friendly interface, this free software provides an excellent solution for offline video access. Whether you're looking to enjoy YouTube content during a long flight, in a remote area, or simply want to reduce your data usage, VideoGo All-In-One is an ideal choice for downloading YouTube videos and keeping them close at hand on your USB drive. Enjoy your favorite videos without limitations!
Note: When downloading videos from streaming sites including Netflix, Prime Video, Disney+, Hulu, HBO Max, Paramount+, and Discovery+, the free trial version of VideoGo can only download the first five minutes of each video. To unlock the limitation, you are suggested to purchase the full version.