Game of Thrones is one of the most popular TV shows of all time based on the book series A Song of Ice and Fire by George R. R. Martin. The series premiered on HBO in 2011 and ran for eight seasons until 2019. The show is set in the fictional world of Westeros and follows the political intrigue and power struggles between various noble houses as they compete for the Iron Throne and control of the Seven Kingdoms. With its gripping storylines, complex characters, and stunning visuals, it's no wonder that so many people are eager to download and watch the show.
If you're a fan of the show and have an HBO Max subscription, you're in luck – downloading Game of Thrones episodes to your device is easy and straightforward. In this article, we'll introduce two ways to download Game of Thrones from HBO Max.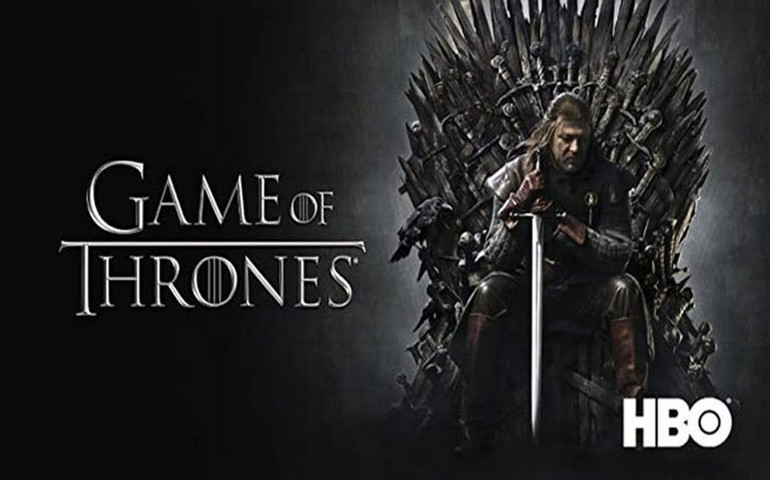 Method 1: Download Game of Thrones with the HBO Max APP
Step 1: Find the episode you want to download
Navigate to the Game of Thrones section of the app. You can do this by searching for the show in the search bar or by scrolling through the "TV Shows" section of the app. Once you've found the show, select the episode you want to download.
Step 2: Download the episode
To download the episode, look for the download icon – it looks like a downward-facing arrow – and tap on it. The download will start automatically, and the episode will be saved to your device's storage.
Step 3: Watch the downloaded episode
Once the episode is downloaded, you can watch it at any time, even if you don't have an internet connection. To access the downloaded episode, go to the "Downloads" section of the HBO Max app. From there, you can select the episode and start watching.
Method 2: Download Game of Thrones with VideoGo All-In-One
Another way to download Game of Thrones from HBO Max is by using a third-party tool. VideoGo All-In-One is a reliable program that can help you download 1080p HBO Max series or movies to any of your devices (phone, tablet, computer, USB drive, etc.). Plus, downloaded titles will remain permanently on your device even after your HBO Max subscription ends.
In addition to downloading HBO Max videos, VideoGo All-In-One can also download videos from multiple streaming sites, such as Netflix, Amazon Prime, Disney+, YouTube, Facebook, etc. This all-in-one downloader allows users to download videos as MP4 or MKV files in high definition quality, providing a superior viewing experience. Additionally, VideoGo preserves multilingual audio tracks and subtitles, allowing users to enjoy videos in their preferred language. VideoGo All-In-One is an excellent choice for anyone looking to download videos from multiple streaming sites.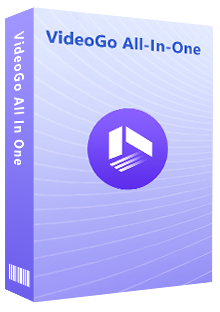 VideoGo All-In-One
A comprehensive tool for downloading unlimited videos from multiple streaming sites with ease.
Download movies & shows from HBO Max/Max.
Download HBO Max/Max videos in HD quality (up to 720p).
Save HBO Max/Max video as MP4 or MKV files.
Preserve original audio tracks and subtitles in multiple languages.
Play the downloaded videos anytime, anywhere without limits.
Download
Download
Steps to Download Download Game of Thrones with VideoGo
Step 1 Install VideoGo All-In-One and Select Download Site
The first step is to download and install VideoGo All-In-One on your computer. Then launch it and you will be asked to choose one website where you want to download videos. Please tap the HBO Max logo and click the "OK" button to connect to the correct website.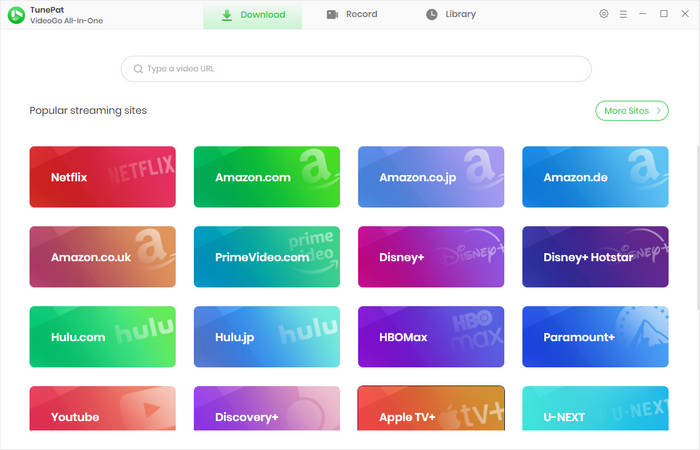 Step 2 Log in with Your HBO Max Account
Type any word into the search bar and hit "Enter" to open the HBO Max login window. Please click the "Sign In" button and log in with your HBO Max account.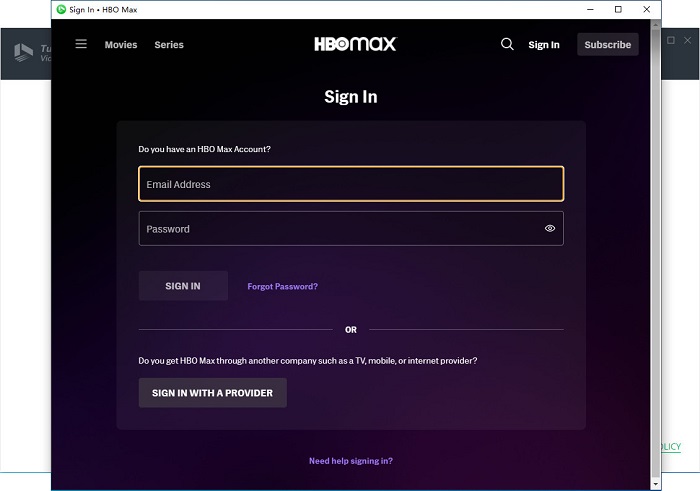 Step 3 Choose General Settings
In the next step, you can customize the desired video quality and format. There is a gear icon on the upper-right corner of the main-interface, click it to open the Settings window. Here you can also choose the audio & subtitle language, subtitle mode, output folder, etc.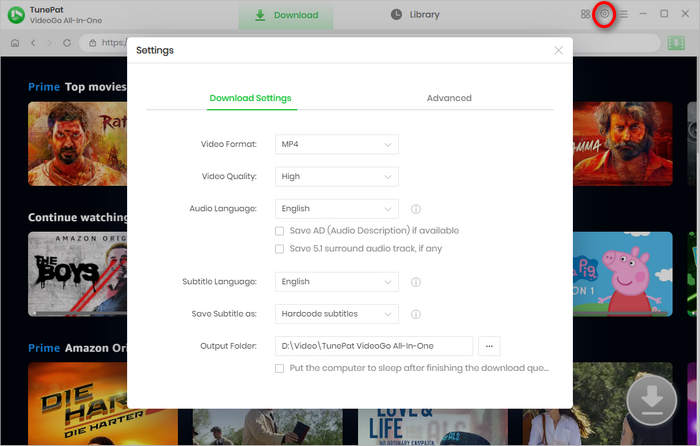 Step 4 Search for HBO Max Video
Find the episode of Game of Thrones on the web browser, then copy and paste it into VideoGo. The software will automatically start searching.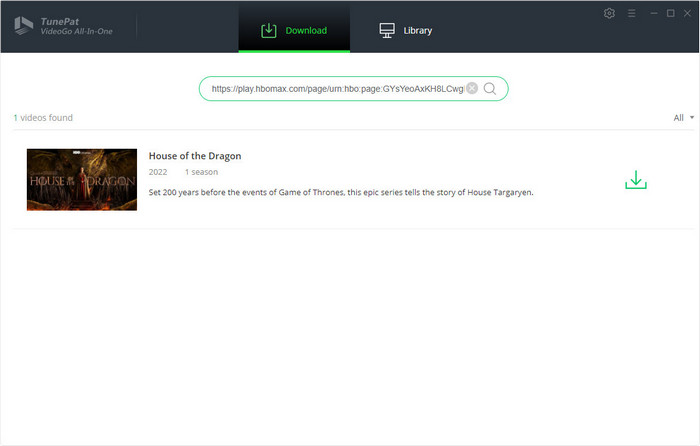 Step 5 Customize the Advanced Download Settings
You can choose the download settings with more details through the "Advanced Download" settings. What you can choose includes video quality, the language of audio tracks, and subtitles. Also, you can choose to save audio, subtitles, or video separately.
To choose the settings for a TV show, you need to click the "Download" icon and then you will see the "Advanced Download" button in the popup window. For a movie, click the

icon next to the "Download" icon.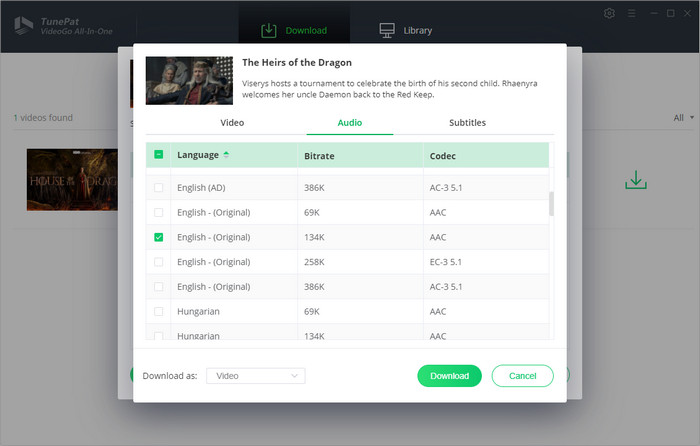 Step 6 Download Game of Thrones to Your Device
Click on the "Download" button to start the download process. The software will begin downloading the episode from HBO Max and save it to your device. Once the download is complete, you can find the downloaded Game of Thrones episode in the folder specified in the software settings. You can now enjoy watching the episode offline at any time, without any restrictions or limits.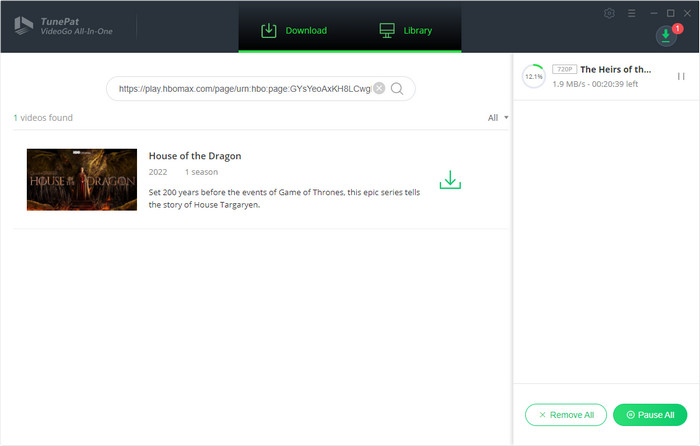 Final Word
Overall, VideoGo All-In-One is an excellent tool for downloading videos from multiple streaming sites, including HBO Max. With its easy-to-use interface and support for various video qualities and formats, you can easily download your favorite shows and movies and enjoy them offline without any hassle. So, if you're a Game of Thrones fan, don't hesitate to give VideoGo All-In-One a try and download your favorite episodes today!
Note: When downloading videos from streaming sites including Netflix, Prime Video, Disney+, Hulu, HBO Max, Paramount+, and Discovery+, the free trial version of VideoGo can only download the first five minutes of each video. To unlock the limitation, you are suggested to purchase the full version.