HBO Max is a streaming service that provides a variety of exclusive movies and shows as well as all of HBO content. Boasting a wealth of movies, shows, and original series, HBO Max has something to satisfy any viewer. After subscribing to a subscription plan, you can watch movies and shows from Warner Media's extensive library, watch classic favorites from HBO's catalog and watch original documentaries and comedy specials made just for HBO Max. The service offers two subscription tiers, the With Ads plan offers content with commercials at $9.99 per month. If you don't like being interrupted by ads, you can subscribe to the Ad-Free plan at $15.99 monthly. In addition, in terms of the download feature, only Ad-Free users are eligible to download videos for offline viewing. People who subscribe to the ad-supported plan have to upgrade their account if they want to download videos from HBO Max.
Though upgrading your subscription plan to the Ad-Free version to enjoy HBO Max content offline is a simple and straightforward method, it doesn't have to be. A video downloading tool can help you easily download ad-free videos from HBO Max without having the With Ads Plan. VideoGo provides a simple yet functional video downloader - VideoGo All-In-One to download many movies and shows from HBO Max without limits. VideoGo All-In-One can download any video you want from HBO Max, regardless of your subscription plan.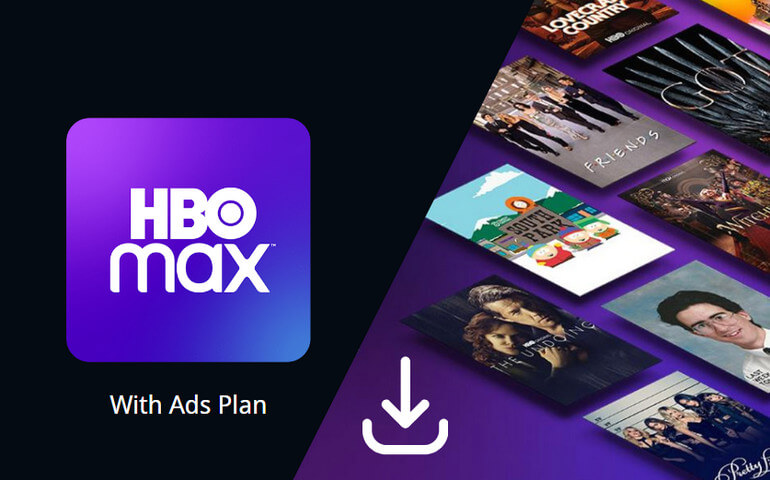 Introduction of VideoGo All-In-One
VideoGo All-In-One is a multifunctional video downloader dedicated to downloading movies and shows from the most popular streaming sites. It currently supports 15 streaming sites including HBO Max, Netflix, Disney Plus, and more. It can download videos locally in MP4 or MKV format, allowing you to watch the downloaded videos on multiple devices. What's more, VideoGo offers you to save 5.1 surround audio and download audio and subtitles in different languages. Meanwhile, one of its major features is that the download process is simple and high efficiency. You can directly download HD videos from the HBO Max website to your computer without installing the HBO Max app.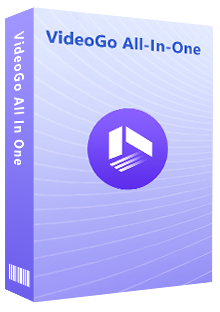 VideoGo All-In-One
A comprehensive tool for downloading unlimited videos from multiple streaming sites with ease.
Download movies & shows from HBO Max/Max.
Download HBO Max/Max videos in HD quality (up to 720p).
Save HBO Max/Max video as MP4 or MKV files.
Preserve original audio tracks and subtitles in multiple languages.
Play the downloaded videos anytime, anywhere without limits.
Download
Download
Tutorial: Download HBO Max Video with VideoGo All-In-One
Next, we will show you how to use VideoGo All-In-One to download HBO Max videos. Before that, please make sure you have downloaded the latest version of the program on your computer and you are required to have an HBO Max account.
Step 1 Select Website
Launch VideoGo All-In-One on your computer. First of all, you need to choose the website from which you want to download videos. You will see the below window if this is your first time using the program. Please tap the HBO Max icon and click the "OK" button to let the program switch to the HBO Max site.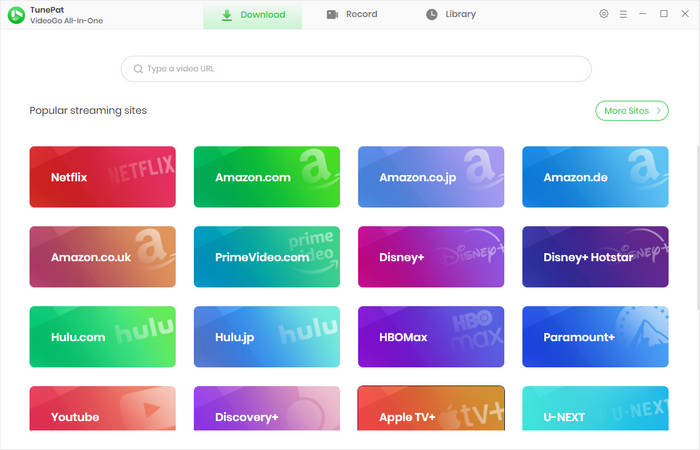 Step 2 Log in to HBO Max and Search for Videos
You can enter the name or keywords of the video you want to download into the search bar, or directly copy the video link from the HBO Max website to find the target video. At that time, you will be required to log in to HBO Max. Please follow the instruction and enter your email and password. Once logged in, VideoGo will start searching for the video for you.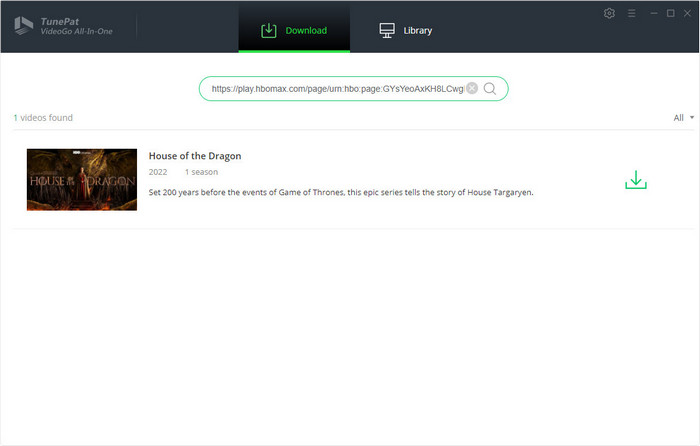 Step 3 Customize Output Settings
Open the settings window by clicking the "Gear" icon in the upper right corner. VideoGo allows you to choose the video format and video quality, and choose the language of audio and subtitles. You can also save subtitles as internal subtitles, external subtitles, or hardcode subtitles. If you want to edit subtitles by yourself, try downloading external subtitles, which are in SRT format.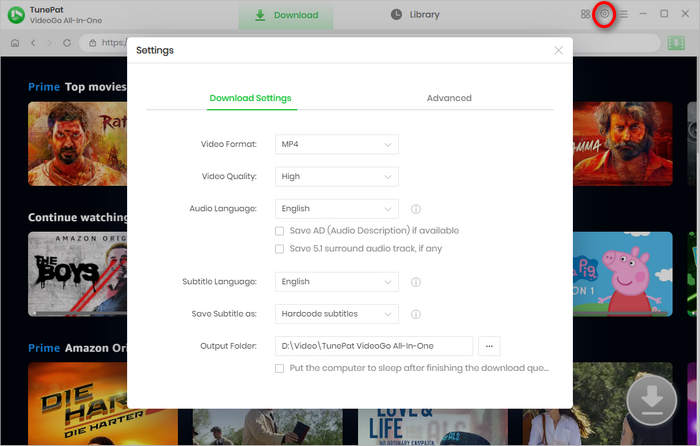 Step 4 Choose Specific Video Quality, Audio, and Subtitles
On the right side of each movie, there is an "Advanced Download" icon next to the "Download" icon. Click it to choose the advanced download settings, which allows you to select audio tracks and subtitles in different languages and formats. If you want to choose the advanced download settings for TV shows, you need to click the "Download" icon first and then you will see an "Advanced Download" button at the bottom left.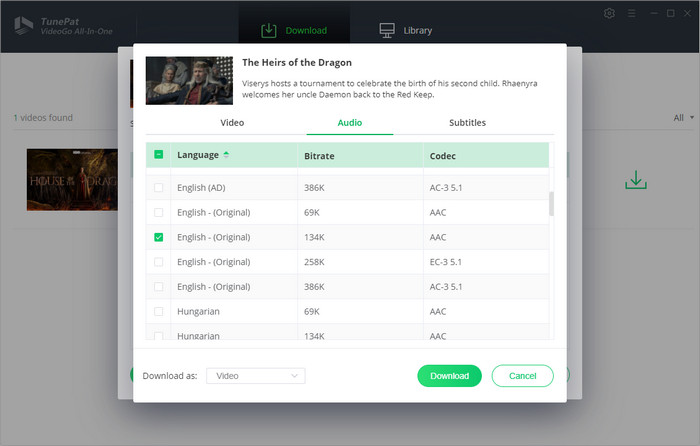 Step 5 Download HBO Max Video on Computer
After choosing the advanced download settings, click the "Download" button to save the selected video to your computer. When it is downloaded, you can check the downloaded video in the "Library" tab and find the local file on your computer as well.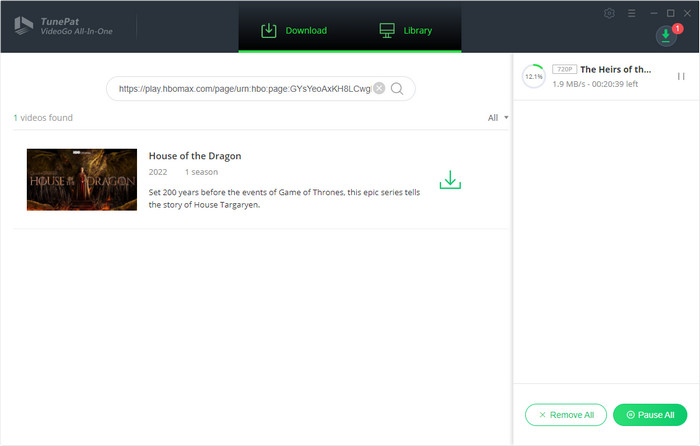 Final Word
With the assistance of VideoGo All-In-One, you can download videos from HBO Max even if you have a With Ads plan on HBO Max. VideoGo All-In-One provides the best user experience on downloading videos from the most popular streaming sites, which supports downloading HD videos from 15 streaming sites, retaining original audio and subtitles in many languages. Plus, all videos are downloaded in MP4 or MKV format which is compatible with many devices so that you can transfer the downloads to other devices for offline viewing at any time.
Note: When downloading videos from streaming sites including Netflix, Prime Video, Disney+, Hulu, HBO Max, Paramount+, and Discovery+, the free trial version of VideoGo can only download the first five minutes of each video. To unlock the limitation, you are suggested to purchase the full version.