Vimeo is becoming a more popular video-sharing platform with millions of users. It welcomes users from all over the world, enabling you to post content, view the content of other creators, and interact with a sizable community of people. Vimeo offers a download function for its paid subscribers as well as the ability to enable or disable downloads on their creations. If you have a Basic or Free membership, you are unable to download any video unless you upgrade your plan.
How to download Vimeo videos without paying for a subscription? If you are wondering if that's possible, you're in the right place. This article will introduce two methods to instruct you on how to download Vimeo videos. One is subscribing to a Vimeo plan and downloading videos directly, the other is using a video downloader to download videos for free.
1. Download Video from Vimeo Directly
The prerequisite for downloading videos via this method is requiring a paid plan on Vimeo.
Step 1Visit Vimeo webpage on your computer and sign into your account. Open the page for the video that you want to download.
Step 2The "Download" button can be found underneath the video player. Click the button and then you will be asked to choose the video quality.
Step 3After downloading, the video file will be accessible in the folder on your computer.
In fact, this is also a very simple way as long as you pay for a subscription. But next we will provide a more reliable and convenient way to help you download Vimeo videos for free.
2. Alternative Method to Download Vimeo Video
VideoGo All-In-One is the best choice when it comes to downloading Vimeo videos. That's because it can download videos from Vimeo for free and even download videos to a computer without subscribing to a Vimeo plan. Besides, it is available to transfer them to any device or share them with your friends to watch. Therefore, it is highly recommended to use such a comprehensive all-in-one video downloader.
Additionally, it has brought together the current major streaming services and social media platforms, allowing you to download videos from multiple platforms with only one software. It greatly saves you time in finding different apps to download videos and shows. If you are downloading a video from the streaming service, regardless of whether the plan you subscribe to has the ability to download or what download restrictions are in place, VideoGo enables you to download unlimited ad-free shows on your computer easily.
How to Use VideoGo to Download a Video From Vimeo?
Step 1Download and Install VideoGo All-In-One
Download VideoGo All-In-One from the official website and install on your computer. Launch it and select the website that you want to download videos from. Choose "Vimeo" in the window and click "OK", then the program will restart and jump to the corresponding site.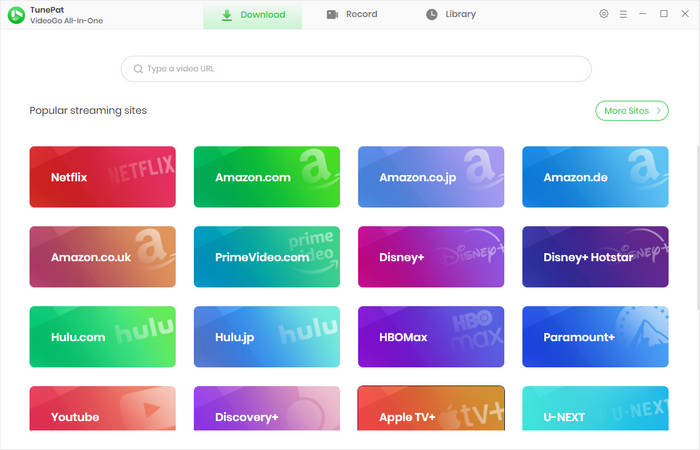 Step 2Set up the Video
You can choose the video parameters by clicking the "Settings" icon where you can set up the video quality, subtitle language, output folder, and more. Plus, you can choose whether you need hardware acceleration in the "Advanced" tab if your computer supports it. It is also possible to change the target website, just click "Account Settings" > "Change".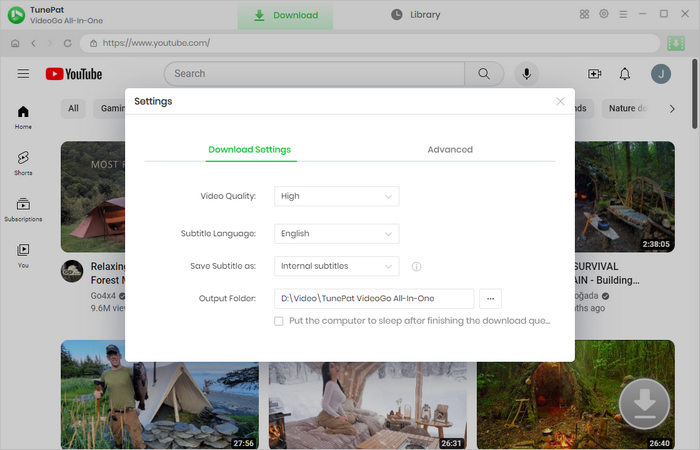 Step 3 Use URL to Search for Vimeo Video
Copy the Vimeo video's link on the page into the search bar and hit "Enter". VideoGo will process the link and find the video within seconds.
Please make sure that the platform you want to download the video from is the same as the video link you entered. Otherwise, you will receive the following message: No results found, please make sure the link is available, or please try some different keywords.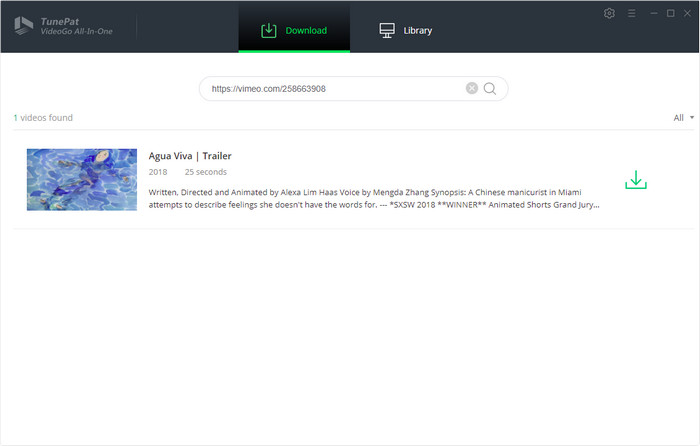 Step 4Customize the Advanced Download Settings
Click the "Advanced Download" icon next to the "Download" icon and a window will pop up, allowing you to choose a great many video qualities with different file sizes. As shown in the picture, the video size varies even with the same video definition. You can choose according to your needs.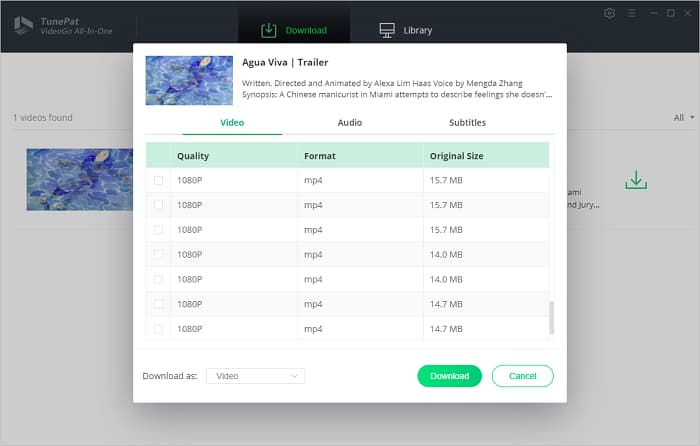 Step 5Fast Download the Vimeo Video
Start downloading the video by clicking the "Download" button. During the downloading process, you can continue to search and add the videos you want to download to the queue.
When finished, tap "Library" to check your downloads and open the folder containing the downloaded videos. You can watch the videos directly on your computer or move them to any device you want, like USB Drive, SD card, or any device.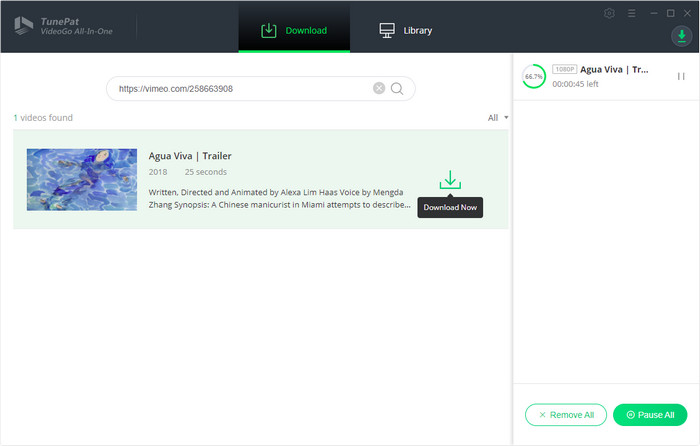 Final Word
After this introduction, will you be more attracted to this all-in-one video downloader? Downloading videos not only from Vimeo but also from other platforms becomes so easy with the assistance of VideoGo All-In-One. It can help you download HD videos in widely used video format with multi-language audio and subtitles kept. It is far more powerful than you can imagine. Don't hesitate to download it and try it out.
Note: When downloading videos from streaming sites including Netflix, Prime Video, Disney+, Hulu, HBO Max, Paramount+, and Discovery+, the free trial version of VideoGo can only download the first five minutes of each video. To unlock the limitation, you are suggested to purchase the full version.